SHENYANG - A total of 27 hospitals in Shenyang, capital of Northeast China's Liaoning province, have hired 27 police officers as vice-presidents since last Friday to take charge of hospital security work and defuse conflicts.
Related readings:


 Unhappy patient sets fire in hospital, 3 doctors injured

 China to restructure 550 psychiatric hospitals


 Hospitals approved for organ transplant


 Added hoops help hospitals jump ahead

Shenyang health bureau and public security bureau announced at a joint press conference over the weekend that the measure is intended to "increase the sense of security of both the hospital staff and patients", thereby improving the treatment of patients, the environment surrounding the hospitals and minimizing potential conflicts between hospital staff and patients.

The health bureau said it also expects to see the vice-presidents of security to guide the hospitals in resolving conflicts before they intensify and, possibly, spiral out of control.

According to the health bureau, last year 152 severe conflicts occurred in the city's hospitals, in which some doctors were beaten and emergency rooms damaged.

"In recent years, I have seen more and more conflicts between hospitals and patients. Sometimes the families of patients can be really irrational and the doctors feel threatened," an unnamed president from a local hospital was quoted by China Youth Daily as saying.

"The idea of using policemen to act as vice-presidents of hospitals may ensure a secure environment in hospitals and guarantee the doctors do a better job."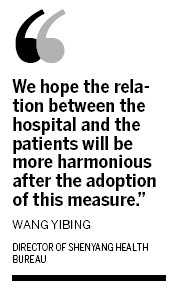 The new vice-presidents will help reduce such actions by patients or their families like placing bodies in hospitals, holding protest banners or setting up a mourning room in hospitals, which could impair the hospitals from functioning properly as medical facilities.
They are also expected to coordinate with other administrative and government departments to regulate the hotels nearby, to crack down on professional conflict makers hired by patients' families to protest against the hospitals and to check unqualified clinics.
"We hope the relation between the hospital and the patients will be more harmonious after the adoption of this measure", said Wang Yibing, director of the city's health bureau.
Zhang Guangshan, vice- director of the public security bureau of Shenyang, said that as the vice-presidents will not be paid by the hospitals, he hopes their neutrality may provide a bridge between hospitals and patients.
However, experts claim it is illegal for hospitals to hire police officers.
According to the People's Police Law of China, the police should not be part of any profitable activity, nor should they be hired by any individual or organization.
"To maintain order is the obligation of the police. Why should they be vice-presidents to maintain order?" asked Zhang Sining, a professor at Liaoning Provincial Academy of Social Sciences.
Sun Gang, a local resident, also questioned whether the police and hospitals may end up shielding one another. "In most cases, the hospitals are more powerful than patients and it seems they are even inviting police to be their guards. I don't think it's a proper way to reduce conflicts."
People who support the new measure agree that hospitals are places where order is important.
Wang Xiufen, a patient in a hospital in Shenyang, said although she empathizes with those who protest and fight with hospitals, there are still other patients who need a quiet environment.
By Wang Jingqiong and Liu Ce