"King of porcelain bottle" won Guinness world record
By Zhao Qian ( chinadaily.com.cn )
Updated: 2012-04-20
The largest porcelain bottle in the world officially won Guinness authentication at the world natural heritage site at Sanqing Mountain on April 11, 2012.
Cheng Dong, authentication official of the Guinness world record said this Sanqing sacred perfect fusion porcelain bottle is the largest China bottle in the world, with a volume of 368 liters, breaking the previous world record of 339.9 liters.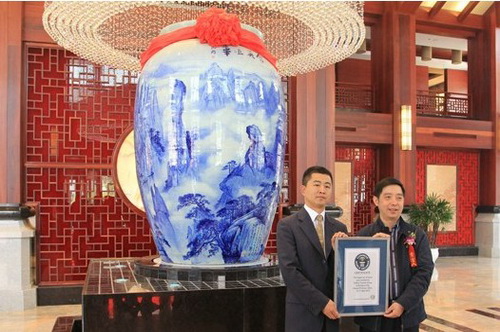 The Sanqing scared perfect fusion porcelain bottle is 2.16 meters high and weighs about 2 tons with its longest perimeter reaching 1.6 meters. Blue and white Sanqing sacred scenery was painted on the body of the bottle, displaying Sanqing mountain's steep and marvelous natural and human landscapes.
As many as 116 ceramic craftsmen were involved in making the Sanqing sacred porcelain bottle. Over 20 tons of porcelain mud was used and the process lasted nearly two years.