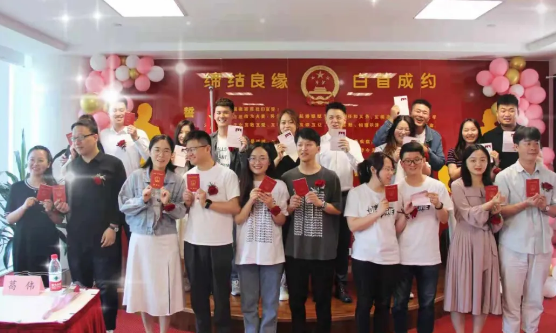 Ten couples promoting a simpler wedding get hitched on May 21 at the marriage registry in the NETDA. [Photo provided to NETDA]
Ten couples who wanted a more simple style of wedding got married on May 21 in the Nantong Economic & Technological Development Area or NETDA – located in Nantong city in Jiangsu province – according to local media reports.
During the group wedding, the young men and women adopted a more laid back approach and a more frugal ceremony.
"Marriage is a lifelong commitment that marks the beginning of a new phase of life," said Xu Xiajun and his wife Zhang Nan.
"When we got this national marriage certificate, it was more about obligation, responsibility and dedication," he added.
The 10 couples reportedly believe that young people in the new era should consciously resist the temptations of pomp and elaborate expense, to carry forward the new trend of frugality.