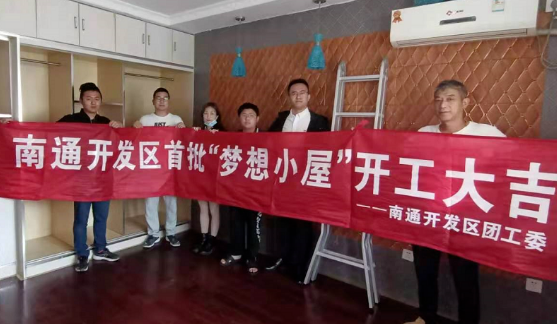 Work starts to transform the quarters of orphans living in the NETDA. [Photo provided to NETDA]
Project Hope is one of the most extensive, influential and widely participated in philanthropic programs in China. The successful program – aimed at financing education for poverty-stricken students – celebrated its 30th anniversary on Oct 30, 2019.
The Nantong Economic & Technological Development Area or NETDA – located in Nantong city, in East China's Jiangsu province – is embracing the project, by offering combined mental health classes and reading for pleasure programs.
The idea is to improve the physical and mental care of the orphans, to help assure their healthy development.
On May 11, the NETDA's youth league work committee held an on-site meeting to plan the transformation of five living quarters for 10 orphans in the development zone.
On May 17 construction began, with the work expected to be completed and the revamped quarters handed over in June.