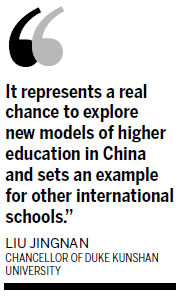 A Sino-US cooperative higher education institute will be established in Kunshan, Jiangsu province, local authorities announced on Wednesday.
Duke Kunshan University, approved by the Ministry of Education earlier this year, will be established by Duke University in Durham, North Carolina, Kunshan and Wuhan University in Hubei province.
The university will recruit students from China and abroad.
Initially, DKU will provide graduate degrees in global health, management studies and medical physics.
It will also offer undergraduate semester programs such as global health, humanities, arts and Asian studies. The DKU campus will open to students in 2014, according to Duke University.
In addition to academic programs, DKU will house several research centers, the first of which will be a Global Health Research Center to address health issues in China and the wider region. The center will build a program closely tied to Chinese health needs in at least three areas: chronic disease, environmental health and health policy and systems.
"Duke Kunshan University is a bold project to drive innovation in Chinese international education. It represents a real chance to explore new models of higher education in China and sets an example for other international schools," said Liu Jingnan, chancellor of Duke Kunshan University and former president of Wuhan University.
So far, there is no timeline for enrolling undergraduates, Liu said.
"We will consider starting undergraduate degrees after the graduate degrees evolve to maturity," he said.
Liu expects 100 to 150 students to enroll in the graduate program, with half from China and the rest from abroad. "We will have sufficient scholarships and financial aid for those excellent students," he said.
The DKU campus is being built at the Yangcheng Lake Science Park of Kunshan, between Shanghai and Suzhou. Kunshan has established itself as a thriving economic center with one of the highest per capita incomes in the country and one of the largest concentrations of technology companies from around the world.
"The establishment of Duke Kunshan University is poised to provide high quality talent for the development of Kunshan, other cities in the Yangtze Delta and China as a whole, thus providing an essential impetus to upgrade its industry and social services," said Lu Jun, mayor of Kunshan.
In October, Shanghai New York University was officially founded at the city's Lujiazui financial zone. Shanghai NYU was established by New York University and Shanghai's East China Normal University. Positioning itself as a first-class international university, Shanghai NYU was considered a threat by many domestic universities in the competition for the best students.
"We won't be more concerned about the competition for best students. On the contrary, it provides students more choices," said Peter Lange, provost of Duke University.
"Different schools have different education methods. Each school has its own characteristics. That means students can choose the school which suits themselves most," he said.
In recent years, many Chinese universities have sought to establish joint education ventures with other countries.
Last year, Guangdong University of Foreign Studies and Lancaster University in the United Kingdom agreed to establish Guangwai-Lancaster University, in Guangzhou, Guangdong province.
In 2006, Xi'an Jiaotong University teamed up with Liverpool University in Suzhou, Jiangsu province. In 2005, the University of Nottingham opened a foreign campus in Ningbo, Zhejiang province.
Introducing quality education resources to China from foreign countries was first outlined in the National Plan for Medium and Long-Term Education Reform and Development (2010-2020), issued by the Ministry of Education.
"In the past years, Chinese universities have carried out many ways in reforming higher education and have actually made some progress," Liu Jingnan told China Daily.
"In the long run, there is still a long way to go, such as the bureaucracy in higher education institutes that hampers the development of academics," he said.
wanghongyi@chinadaily.com.cn
(China Daily 12/20/2012 page5)