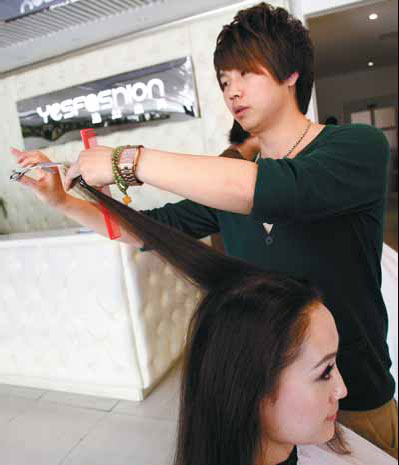 A' Hao wants to be the best stylist there is. Zhang Wei / China Daily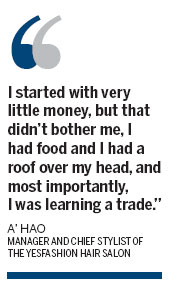 The trendy young woman perches on the chair in the salon. Her stylist arrives, dressed in an open-chested green shirt and brown slacks.
From his back pocket, he pulls out a pair of scissors and starts sculpting her hair. A few snips and he whips up a comb from another pocket and gives her hair a quick styling. He's finished, and the young woman's coiffure is perfect.
A' Hao, the stylist, is only 23, but he is already the manager and chief stylist of the YesFashion Hair salon in Beijing. The young woman whose hair he was working on is a professional model, and also his fiancee.
Originally from Hubei province, A' Hao, born Er Hao, is now based in Beijing. For the last eight years, he has traveled to various cities across China to hone his techniques. Soon, his employer is sending him to Japan.
"I started when I was 16," he says. "I've worked in hair salons in Wuhan, Guangzhou, Shenzhen, Shanghai and now I'm in Beijing."
A' Hao grew up in rural Hubei province and is part of a new generation of migrant workers building a life of their own in big cities across China, working in management positions.
"My father was a migrant worker, my mother pretty much stayed at home," he says. "When I was younger, my father was away a lot, he was making money so I could go to school."
When he was a teenager, A' Hao wanted to be an athlete, but a freak traffic accident cut his athletic aspirations short. He was hit by a car and injured his left leg. With his future in jeopardy, A' Hao, then only 15, sought another path for himself.
With 300 yuan ($48) in hand and a rucksack on his back, he got on a bus to Hubei.
"When I left, my mother saw me off," he says. "She cried but I told her I will be alright."
After arriving in Wuhan, A' Hao got a kitchen job at a hotel. But he did not have the right identification papers and could not fill out the application papers.
Jobless and in distress, he found a hair salon, walked in and asked if they were looking for apprentices. He struck up a deal with the owner. For two square meals and lodging, the owner would get cheap labor.
A' Hao did everything from sweeping to washing towels. His starting salary was merely 80 yuan a month. After a few months, he worked his way up from floor sweeper to stylist and his salary was hiked up.
"I started with very little money, but that didn't bother me, I had food and I had a roof over my head, and most importantly I was learning a trade," says A' Hao. "After I became a stylist and I purchased my own equipment, I started to travel to broaden my horizons."
Taking his skills and his equipment across the country, he set out to learn all he could about hair-styling. Eventually his journeys led him to Beijing where he was made manager.
From making 80 yuan a month, he is now making 128 yuan per haircut, which translates to a monthly income that can range from 15,000 to 30,000 yuan a month.
It was also at his Beijing salon that he met his fiancee. Then only a student in Beijing, she says he has matured a lot since they first started dating. Now they are engaged, with a new home waiting for them in Shijiazhuang in Hebei province, that A' Hao had bought.
While he still cuts hair and his rates have gone up, A' Hao spends his days managing the shop and training his staff, working nearly seven days a week.
To this boy from the countryside, the future is a bright path ahead.
"I had to make a living for myself, so I set out with a goal," he says. "I'm still working on being the best stylist I can be."
ericjou@chinadaily.com.cn
(China Daily 05/06/2012 page3)