"Every girl loves beauty, the only problem is knowing what beauty is," says Wu Xiaohuan, a student at Wuhan Textile University.
"A real lady has both her outside appearance and inner beauty," the 19-year-old adds.
Originally from Qianjiang, in Central China's Hubei province, Wu, an avid dancer, became aware of the Etiquette Club for Ladies two years ago and simply thought of it as another way to make friends and have fun.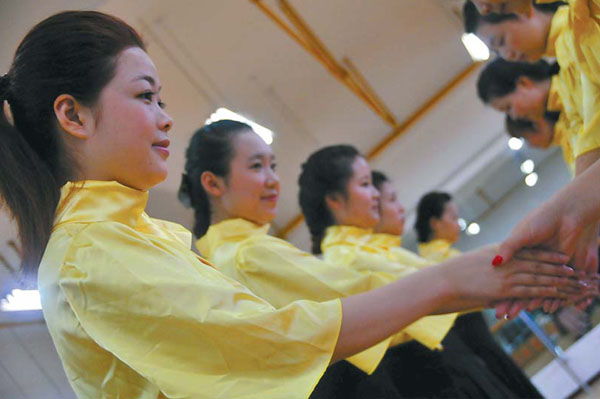 Members of the Etiquette Club for Ladies practice how to shake hands at the highter vocational college of Wuhan Textile University. [Photo/China Daily] 
"But it brings me much more than that," Wu says. "Now even my parents are very happy that I joined the club."
Wu says she has also benefited from the practical tips on how to be a lady.
"Since I joined the Etiquette Club for Ladies, I never lean back or cross my legs when I sit down."
Established in April 2009, the Etiquette Club for Ladies is a student organization at the higher vocational college of Wuhan Textile University, arguably the first one in the country. It aims to promote self-discipline and an appreciation of Chinese culture among female students. The club currently has 62 members.
The club provides eight courses, a total of 216 hours a year, to its members, including studies in Chinese classics and an introduction to art, as well as deportment and practical skills.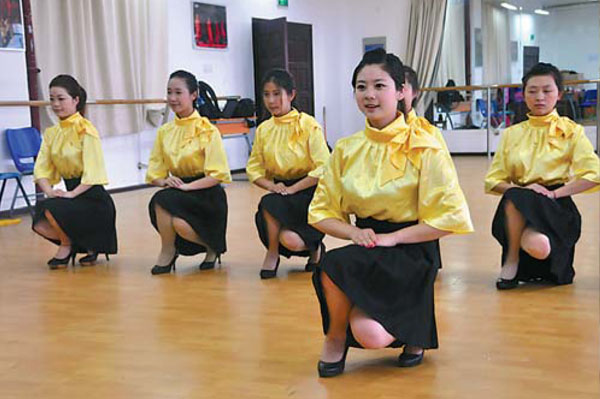 Members of the Etiquette Club for Ladies practice how to squat properly at the highter vocational college of Wuhan Textile University. [Photo/China Daily]
The club has a strict selection process, which includes appearance, moral and academic performance, communication ability and an interest in the arts and traditional Chinese culture.
Wu says that in the club's second year nearly 500 students applied, but only 56 were admitted.
"I definitely would like to expand the club, but it is expensive to run, so I have to keep it at its current size," says Guo Weiqi, the founder of the club, adding that as a vocational school, he would like the university to provide more financial support to the club.
Guo says the school invests between 50,000 yuan ($7,900) to 80,000 yuan each year to support the club's activities, including recruiting instructors and buying cosmetics.
"Students don't need to pay to join the club, like other student organizations," Guo adds.
Guo established the club because he wanted students to develop some social skills at school, such as how to deal with people and how to talk in different social situations, which will help prepare them for life after graduation.
In addition, he says the club aims for overall development. "Of course, the added value will be students' recognition of traditional Chinese values."
Since it was founded, the club has triggered heated debate. Netizens have doubted the university's motive in setting up such a club and have said it is simply training future wives for the rich and powerful.
Critics argue that a real lady cannot be trained in such a short time.
The first members of the club graduated last summer and all gained good job offers.
Guo answers the club's critics by saying that "after three years of training, whether the graduate has become a lady, I cannot say, but they've changed in positive ways, and gained quite good jobs. I think that is enough".
Zhou Juan, a lecturer at the Central Conservatory of Music, praises the idea of setting up a place for students to embrace art and traditional culture.
"It's a good place to start," Zhou says.
luowangshu@chinadaily.com.cn, zhoulihua@chinadaily.com.cn