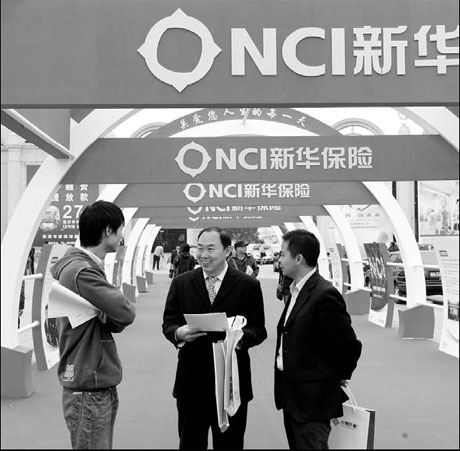 New China Life Insurance Co Ltd advertisements at a financial expo in Beijing. China's listed insurance companies are pursuing conservative investment strategies this year due to the economic slowdown in the country. Luo Wei / For China Daily
Chinese listed insurers, which are also major players in the capital market, are being conservative about their investment strategies this year in light of an uncertain global economy and a domestic slowdown.
"We are conservatively optimistic about this year's capital market, and we are actively seeking opportunities in new investment fields," He Zhiguang, president and executive director of New China Life Insurance Co Ltd, told China Daily after a news conference on Thursday.
New China Life, as the country's third-largest life insurer, has gained a license to conduct foreign-exchange investment in Hong Kong, he added.
The company also plans to establish two health-management centers in Wuhan, Hubei province, and Xi'an, Shaanxi province, and expand its participation in retirement communities.
The company's overall investment yield was 3.8 percent in 2011, down from 4.3 percent in 2010.
As for China Life Insurance Co Ltd, Vice-President Liu Jiade said the insurer will have strict controls on equity investment.
"This year's capital market remains very complex, with structural investment opportunities co-existing with risks. We should grasp these structural opportunities," Liu said.
The company's total investment yield was 3.51 percent last year, down from 5.11 percent in 2010. The sluggish stock market was also the major cause of a 45.5 percent drop in net profit for the world's largest insurance company, by market value, last year, according to Liu.
For Ping An Insurance (Group) Co of China Ltd, the world's second-largest life insurer by market value, this year will see an increase in fixed-income securities in its investment portfolio, according to Timothy Chan, its chief investment officer.
"This year, we will keep to our strategy of increasing our holdings of fixed-income products," said Chan, reflecting the insurer's concerns over the volatility of China's stock market.
The overall investment yield fell to 4 percent last year from 4.9 percent in 2010 as Ping An was hit by a stock market that slumped 22 percent, it said in its earnings report.
However, as Ping An's banking business nearly tripled to 7.98 billion yuan ($1.26 billion) last year, it offset its lower investment returns. The insurer still posted a 12.5 percent rise in net profit in 2011.
Ping An invested 58.2 percent of its assets in bonds and 8.6 percent in stocks last year.
China Life Insurance Co Ltd invested 44.6 percent of its assets in bonds and 12.17 percent in equities in 2011.
Chan said Ping An was looking at ways to invest in low-cost housing and "some projects are in the pipeline". He did not specify the number of projects or their value.
According to Gao Ting, chief China strategist at investment bank UBS AG, the performance of China's capital market is expected to improve a bit this year.
"We estimated that China's stocks might see an increase of 15 of 25 percent in 2012. However, as the first two months witnessed a gain of more than 10 percent, the stock market could be quite volatile in the coming months," Gao said.
huyuanyuan@chinadaily.com.cn
(China Daily 03/30/2012 page16)