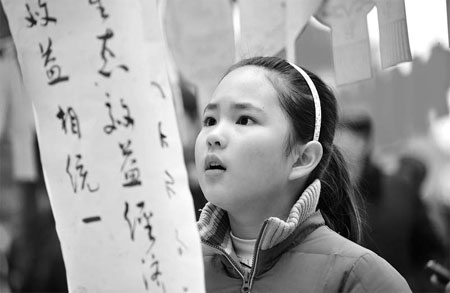 A girl reads lantern riddles in Yicang city, Hubei province. China's efforts to develop its cultural industry have attracted attention from the equity fund investors. Zhang Guorong / for China Daily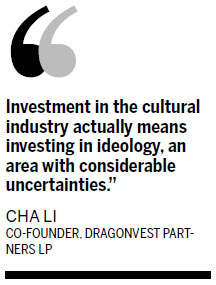 The sector isn't just about keeping the public entertained, say experts
Liu Changle, the founder of the private broadcaster Phoenix Satellite Television Holdings Ltd, is expanding the company's portfolio in China's burgeoning cultural industry by taking advantage of the ample capital inflows.
Although the Hong Kong-based Phoenix made its name through television work, it also owns a magazine, a website and an outdoor advertising business. It has expressed an increasing interest in movies, television dramas and the media education sector.
Traditional TV advertising dropped to 57 percent of the company's total revenue in 2011, down 4 percent from 2010, Liu said. However, he added that earnings rose overall with the increase coming from new media, magazines and television dramas.
New media remains Phoenix's major focus, and the strategy is turning the company's web portal into an interactive "omnimedia", a combination of the Internet, television and magazines, providing a diversified flow of information.
Last year, Liu announced that he would raise an equity fund worth as much as $800 million to invest in the cultural industry, mainly focusing on China's inland areas.
Last week, Phoenix signed an agreement with Bank of China Ltd to strengthen cooperation in the corporate, personal and investment banking businesses.
BOC will offer its services to Phoenix to help the broadcaster become a world-class media group, the bank said in a statement on its website, without disclosing specific financial terms.
"China's cultural industry has great growth potential. We will become actively involved in movies, television dramas and the education industry," Liu said in an interview with China Daily.
China has designated the cultural sector as a pillar of the national economy and aims to increase its added value by 20 percent per annum during the period of the 12th Five-Year Plan (2011-2015).
The Ministry of Culture expects the output of the cultural industry to account for 5 percent of the country's gross domestic product in 2016, from 2.78 percent in 2010. Liu said this is a good time for Chinese companies to purchase or merge with overseas cultural studios, theaters or other cultural enterprises.
A recent deal involving DreamWorks Animation's Chinese studio with an initial investment of $330 million, was announced during Vice-President Xi Jinping's recent trip to the United States.
DreamWorks will build a joint venture studio in Shanghai with China Media Capital, Shanghai Media Group and Shanghai Alliance Investment, an investment arm of the Shanghai municipal government.
"If some foreign partners feel concerned about ideological divergences, they can make the deals through Hong Kong-based cultural firms, and we would like to participate in such activities," Liu said.
"Borrowing a ship to put out to sea" is a strategy often adopted by foreign media companies interested in the Chinese market, but unable to obtain regulatory approval. Several of them now print in offshore locations, such as Hong Kong.
Zhang Shaowei, a cultural researcher at Beijing-based CCID Consulting Co Ltd, said the number of mergers and acquisitions within the cultural industry increased to 32 in 2011, from just three in 2010, but few foreign companies were involved.
Last year, the Chinese online game developer and operator Perfect World Co bought the California-based developer Cryptic Studios Inc for $50.3 million.
That deal was the exception that proves the rule: the majority of M&A activity was conducted between domestic companies, mainly in eastern cities including Beijing, Shanghai and Guangdong, while only two cases occurred in the central and western regions.
The financial industry is now paying more attention to the cultural industry than ever before and the momentum is expected to be sustained, said Zhang.
Credit funds continue flowing into cultural enterprises that used to have difficulty accessing bank loans. China's commercial banks extended a total of 230 billion yuan ($36.3 billion) in loans to the industry in the first 10 months of 2011, according to a report by CCID.
Investment in the cultural industry has become a focus of the capital market. About 14 cultural industry-oriented equity funds were launched in 2011, with plans to raise 45 billion yuan.
The government's support has also resulted in more initial public offerings. Ten Chinese cultural enterprises listed on the mainland and in Hong Kong in 2011, raising a total of 12.9 billion yuan.
In January, the online news portal of the People's Daily newspaper announced plans to raise about 527 million yuan through an IPO on the Shanghai Stock Exchange.
Meanwhile, others are in pipeline: China's State news agency Xinhua and China Central Television also plan to list their online portals, according to media reports.
"Seeking a listing on a stock exchange has become a trend, but 'no rush and no mess'.Going public is not applicable to all, unless the companies have a successful profit model, high rewards and transparent accounting," Liu said.
Emerging industries, in Chinese terms, such as film and television, new media and the Internet are those most favored by the investment agencies, analysts said.
"Direct financing (through listings and bond issuance) will continue to hold a prominent position and more enterprises will take private equity and venture capital as their main financing channels," said Zhang.
A long investment cycle is one of the risks inherent in the industry, while a mature risk-management system has yet to be formed and the awareness of risk management is low among companies in the cultural sector, he said.
Cha Li, co-founder of Dragonvest Partners LP, said many investments in the sector - such as some investments in cinemas, the art world or cultural industrial parks - give the appearance of working within the cultural industry, but are, in reality, investments in real estate.
"Investment in the cultural industry actually means investing in ideology, an area with considerable uncertainties," said Cha.
lanlan@chinadaily.com.cn
(China Daily 03/19/2012 page16)