WUHAN---The 606-meter-high Wuhan "Greenland Center", a building in downtown area of Wuchang in Wuhan, capital of Central China's Hubei province, is expected to be China's tallest building, replacing current highest skyscraper Shanghai Tower (632 m), building developer confirmed on Monday.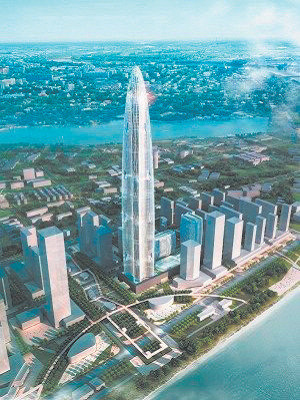 Lu Zhenxing, marketing director for Hubei province at Greenland Group, the nation's Shanghai-based top real estate developer, told China Daily that they are studying a fresh plan that attempts to heighten the "Greenland Center" to more than 125 floors in total.
"Everything is under discussion now," said Lu. According to the previous press conference launched by Greenland Group in June, 2011, the skyscraper with a total floor space of 300,000 square meters and 5-billion-yuan ($750 million) building will house luxury hotels, office space, high-end stores and apartments. The skyscraper is part of a planned commercial compound that will cover three million square meters and cost about 30 billion yuan to build. The complex will include five-star hotels, A-grade office buildings, luxury apartments and shops.
Modern high-rise buildings originated in the US, and they quickly became a worldwide phenomenon. The Council on Tall Buildings and Urban Habitat (CTBUH) says that 10 years ago there were 286 buildings in the world over 200 meters tall; now there are 634. They are located in 32 countries and regions; 403 are in Asia, 63 percent of the total. Bahrain, Dubai, Indonesia, Kuwait, Qatar and Vietnam are particularly active in constructing such buildings. But the busiest market is China. The average height (421 m) of China's top 10 tallest buildings is much higher than that of any other country. At present China accounts for about a third of the world's 634 high-rise buildings over 200 meters high; the US accounts for about a quarter, and India for just 0.3 percent.