When 25-year-old Pan Jia holds her healthy 1-year-old daughter in her arms and coaxes her to sleep, there's no way of telling the mom was a conjoined twin.
The only reminder is a hand-sized scar the shape of a chrysanthemum on her stomach. And she has no navel.
"I don't wear revealing clothes because of the scar," says the cashier at China Telecom in her hometown of Ezhou in Hubei province, who earns about 600 yuan ($94.44) a month.
"I'm lucky I survived. I often miss my younger sister," she says.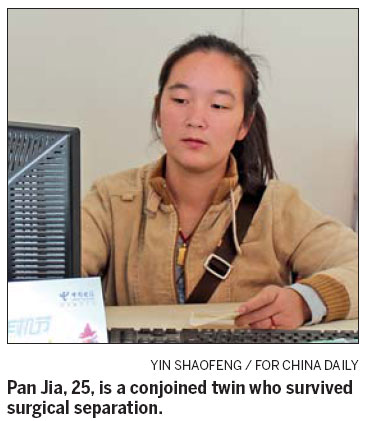 When Pan Jia and her sister, Pan Yi, were born, her parents were shocked to see their abdomens were joined.
About 18 days later, professor Shi Hai'an from Wuhan's Zhongnan Hospital successfully separated the twins, who shared a liver.
Pan Jia, who got two thirds of the liver, survived, but Pan Yi died two weeks later because of a pulmonary infection.
"In those days, conjoined twins were considered freaks, especially in the countryside where we lived," Pan Jia says.
"Many people advised my parents to abandon us, but they insisted on sending us to Wuhan to receive treatment. After the operation, I was no different from anyone else. My friends don't mind my past, and our neighbors have forgotten the incident."
She says the only problem is that the surgery separating her from her twin had an impact on the development of her brain, so she has trouble remembering things.
"My academic record is such a mess," she says.
During her school years, she would had difficulty reciting texts in Chinese classes.
"Even if I copied the text 20 times, I couldn't remember it. Books are all Greek to me," she says.
"My family sometimes complained about my poor academic record, but there was nothing I could do. I wondered why I was so stupid, until my father told me the truth about the surgery and its effects on the brain.
"If my memory was better, I would definitely have continued my studies."
She graduated from middle school in 2003 and left for Shenzhen to become a migrant worker one year later.
She got promoted and eventually was in charge of more than 20 workers at an electrics factory, where she earned 2,000 yuan a month.
She returned to her hometown in 2007 because she fell out with her colleagues.
"Shenzhen has everything one needs in a big city, but my family is here. I like a simple life," she says.
While she was working in Shenzhen in 2004, she got in touch with professor Shi, who often wrote her and talked to her by phone.
Their first encounter was in 2005. Pan says she shed tears when she met him.
In 2008, she met her husband, Xiong Fei, at her friend's wedding ceremony. Xiong told her that her twin status was all in the past, and he would take care of her from then on.
In 2010, Shi failed to make it to Pan's wedding due to a severe illness and passed away a month later.
When she got pregnant, Pan was worried about the unborn baby's health, until doctors assured her there was no problem.
"Although we are not rich, we plan to have two kids. They can look after each other and the family will be bustling with excitement," she says.
She says she pays attention to news about other conjoined twins.
"Some kids are lucky, and some are unlucky. I want to visit them but can't because I don't have the money ... all I can do is wish them well," she says.
"Everything is OK, as long as you live."