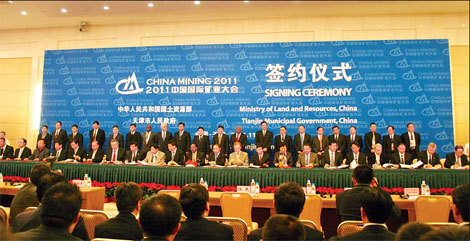 The agreement-signing ceremony at the China Mining Congress and Expo. Agreements for 55 projects worth a total of 15.7 billion yuan ($2.47 billion)have been signed during the congress, including 12 domestic projects worth 5.5 billion yuan, and 43 overseas projects worth 10.2 billion yuan. Cao Jidong / For China Daily
The head of one of China's largest steel companies has said that it will make better use of both its overseas and domestic resources and increase international cooperation to follow a sustainable development path.
The company, the Shougang Group, has iron ore and coal production operations in Hebei, Liaoning, Hubei, Shanxi, and Guizhou provinces and the Ningxia and Xinjiang autonomous regions.
But it wants to establish new mines in China and abroad and cooperate with different partners, said Zhu Jimin, chairman of the board, in Tianjin on Sunday.
The company has an iron ore mine in Peru with 1.41 billion tons of reserves and is planning to extend its production and has recently been active in penetrating other overseas market, for example in Australia.
"We're talking with some foreign companies about purchasing and exploring for overseas iron ore and coal mines together," Zhu added.
"Extensive cooperation and making full use of domestic and overseas resources are important to the mining business these days."
The company has reported that it has partnerships with major Chinese coal companies, including the Shenhua Group and Datong Coal Mine Group, as well as iron ore producers in Australia, Brazil and India.
"Cooperating with coal mines and iron ore companies helps us ensure raw materials supplies," Zhu went on to explain.
"At the same time, we're also working on more intense cooperation with local mining companies here."
Shougang's steel production in Beijing was halted by the end of 2010 and moved to Caofeidian, a port city in the eastern part of China.
After that, it expects to focus more on the upper-stream production, such as exploration, while paying greater attention to resource-saving and more efficient utilization, said Zhu.
"We cut more than 8 million tons of steel production from the Beijing's base and this has made a great contribution to the capital's environment."
According the China Iron and Steel Association, steel companies will have to extend the production chain to up-stream and down-stream industries and develop related businesses.
Zhu explained that Shougang's overseas development has always involved taking some risks during expansion.
"However, we have accumulated a lot of experience over the years, overseas," he said.
"The company has dozens of contracts with foreign companies to develop projects overseas that are already in operation."
Nonetheless, Zhu said, the risks still exist, including the high price of iron ore in developed countries.
China's steel industry developed fast under the 11th Five-Year Plan (2006-2010), with an average annual growth rate of 12.2 percent in production, said Luo Tiejun, deputy head of the Ministry of Industry and Information Technology's raw materials department.
But, the industry is still limited in resources and raw material, Luo went on to say.
"We also lack innovation and creativity in product research and development."
(China Daily 11/08/2011 page24)