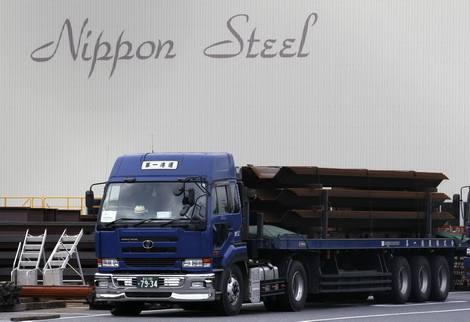 A logo of Nippon Steel Corp is seen at its distribution center in Tokyo July 27, 2011. Nippon Steel Corp, Japan's top steelmaker, forecast profits to rise this year as a slow global economic rebound bolsters demand, outperforming smaller rival JFE Holdings Inc which expects earnings to dwindle on tough competition in Asia's export markets.[Photo/Agencies] 
WUHAN-- China's Wuhan Iron and Steel (Group) Corp and Japan's Nippon Steel Corp announced the launch of a new joint venture on Thursday.
The steelmakers each have a 50-percent stake in a new tin plate plant in Wuhan, the capital of central China's Hubei province, built at a total cost of 1.85 billion yuan ($291 million), according to a joint statement issued by the companies.
The plant is expected to start operation in the summer of 2013. The tin plates will be used to make cans for food and beverages, as well as for products like paint, oil and medicine.
The joint venture is a "major move," as both companies are joining hands amid a grim global economy and fierce market competition, Shoji Muneoka, president of Nippon Steel, said at a launching ceremony for the joint venture.