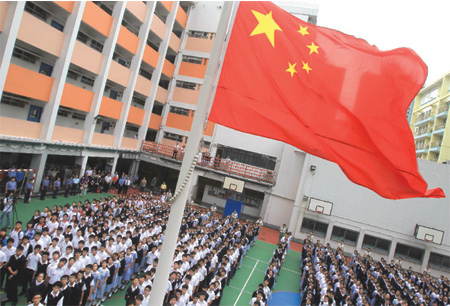 Fifty university students from Wuhan and Taiwan attend a flag-hoisting ceremony at SKH Lam Woo Memorial Secondary School. Edmond Tang / China Daily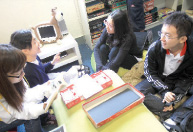 Visiting students from Wuhan share a relaxed moment with SKH Lam Woo Memorial Secondary School students at the English corner. Edmond Tang / China Daily
Students from the far-flung regions of China are taking part in study tours to teach them about the 1911 Revolution. Much of the focus of the tours is on Hong Kong, reports Ming Yeung.
"I am proud to know that Hong Kong is now part of a great and strong country, after my trip to our motherland," Kelly Yip said enthusiastically. "All the impressive achievements could not have materialized if there was no 1911 Revolution, because without it, China may have continued to be a weak and closed feudal country being humiliated by Western powers."
Yip is a Form Four student from SKH Lam Woo Memorial Secondary School (LWMSS) who joined the Cross-Straits Youth Experience Tour to celebrate the Centenary of the 1911 Revolution. The journey took some 1,000 secondary and college students, coming from Hong Kong, Macao and Taiwan, to Wuhan and Beijing from Aug 10-16. The event was organized by the Hong Kong-Hubei Youth Exchange Promotion Association.
A series of youth exchanges were held between June and October, including an experience tour, a uniformed parade, an orchestral concert, a writing contest, and a photo and video competition.
Some 300 outstanding students from Hubei, Taiwan and Macao drawn from the summer exchange tour came to Hong Kong from Sept 30 to Oct 4 to visit historic sites associated with the revolution.
William Choy, chairman of the association, said the idea of hosting such a large-scale cultural exchange program, involving students from across the Straits this year, was to pay respect to Sun Yat-sen, "Father of the Nation", even though the association has been low-key about other exchange activities since it was founded in 2005.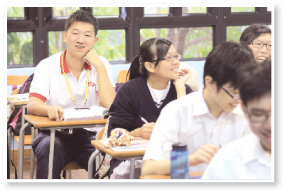 A visiting student drops into a Form Six class at SKH Lam Woo Memorial Secondary School to immerse himself in the learning atmosphere in Hong Kong schools. Edmond Tang / China Daily
Meanwhile, other students were sent from Hong Kong and Macao to Wuhan to help them capture "the essence of the revolution".
Choy believes participating students have built close friendship through this "educational program" which he says is especially important to young people from across the Straits, so that they can learn how to make friends with people of different backgrounds.
"Communication is essential nowadays," Choy said. "How to make a peaceful and sophisticated approach in discussing and presenting your ideas with others is a key skill I hope they can pick up for their careers and for the country."
Effective communication starts with an old-fashioned skill: listening, Choy acknowledged. "Listening enables trust, and trust is the foundation of positive change".
"I see lots of synergies happen and in-depth communication at a level that they are not just hi-bye friends anymore," he grinned.
LWMSS is one of three local secondary schools for hosting reunions for visiting students. The other two schools are HKBUAS Wong Kam Fai Secondary School and St. Louis School.
"The program involves students coming from the mainland, Hong Kong, Macao and Taiwan, which serves well to commemorate the 1911 Revolution. They all have passion, courage and strength to address the needs of the communities that they live in," said Susie Liu, acting principal of LWMSS.
LWMSS has been particularly enthusiastic about the program, since the school is named after Lam Woo, a construction businessman and fervent revolutionary who followed Sun Yat-sen and donated his fortune for many uprisings.
Liu said the school has whole-heartedly supported 50 students' participation in the program in attempts to broaden their horizons as well as to cultivate their sense of social responsibility.
"I am sure the sense of national identity has been enhanced among the students after the exchanges, no matter where they are from," Liu told China Daily.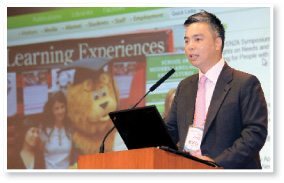 William Choy, chairman of the Hong Kong-Hubei Youth Exchange Promotion Association, says he expects the event will help youngsters learn how to make friends with people from different backgrounds. Edmond Tang / China Daily
Sun Shiran, an undergraduate from Huazhong University of Science and Technology in Wuhan, who was also a volunteer for the tour in Wuhan, said, as a Wuhan native, he was glad to see students from the two SARs and Taiwan were interested to know more about the epoch-making revolution.
"Being a volunteer was indeed very tiring yet rewarding. In all the events in which we participated over the past few months, we focused a lot on communicating with our peers and learned to be better people," he said.
Apart from attending a flag-hoisting ceremony at LWMSS, students took lessons on different subjects to capture the learning environment of Hong Kong students.
Speaking at the youth forum at Hong Kong University's Loke Yew Hall (then the Great Hall), the same venue where Sun Yat-sen delivered his famous speech in 1923, former chief curator of the Hong Kong Museum of History Joseph Ting Sun-pao reaffirmed Hong Kong's role as the cradle of the hard-fought revolution against the Qing monarchy.
Ting began his address by quoting Sun's opening remark that says, "I feel as though I have returned home, because Hong Kong and the University of Hong Kong are my intellectual birthplace."
Students held their breath and listened attentively to Ting's fascinating speech, which introduced Hong Kong's unique conditions at the time which aided the revolution in various ways, such as a strategic harbor, freedom of press and so on. Ting spoke ardently and in great detail about Sun, as tough he was speaking about a close friend.
William Choy expressed the hope that after the activities, the students will inherit Sun's values in their studies and their careers to prepare themselves for upcoming challenges.
"The spirit of continuing education, the hunger to pursue a higher knowledge level and never compromise - those are the core values our students should learn at this stage," Choy stressed.
"These young people are the future of our nation. If they do better than we have done, our future is simply brighter," he said confidently.
"History didn't mean a thing to me when I learned it in textbooks," admitted Avery Lam, a Form Four LWMSS student. "However, by visiting the historic venues where the uprising broke out, I could envisage and even feel the ambience, way beyond what any word could ever express."
"The revolution serves as a constant reminder to us that we young people ought to work hard for the well-being of our country," she added.
In terms of wrapping up the program, Choy reckoned there are no more suitable places than Hong Kong to take up the responsibility.
Being a "kongkie", Choy said he was glad to know that Hong Kong is a key place contributing to the success of the revolution, judging from the values and stories behind it.
"It has a special meaning that Dr Sun Yat-sen developed his revolutionary ideas from here, exactly from Queen's College and HKU," Choy explained. "So as our celebration comes to an end, I personally prefer to end where it has been started. We start it in Hong Kong and we end it in Hong Kong."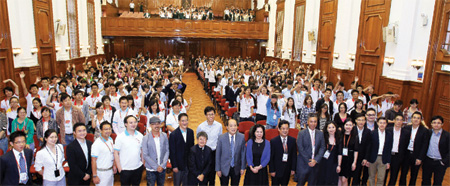 Three hundred students from Wuhan, Macao and Taiwan attend a youth forum on the 1911 Revolution at HKU's Loke Yew Hall, where Sun Yat-sen delivered his famous speech in 1923. Edmond Tang / China Daily
(HK Edition 10/07/2011 page4)