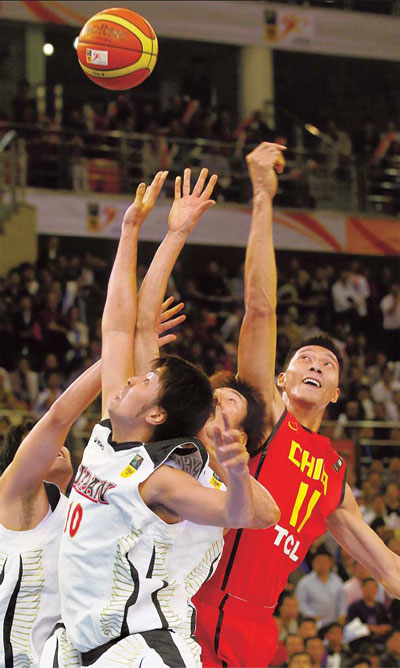 China's Yi Jianlian (right) fights for a rebound in an Asia Championship match against Japan in Wuhan, Hubei province, on Wednesday. Yi scored 18 points to help China win 84-58. China tops Group F after the second stage of the tournament and will face Lebanon on Friday. Cui Meng / China Daily
Yao Ming's TV broadcasting is turning out to be nearly as big a draw as the games themselves
WUHAN, Hubei province - Yao Ming doesn't have to play in a game to be one of its biggest attractions.
The retired Chinese basketball icon is back in the limelight at the FIBA Asia Championship, rounding out CCTV's broadcast team for eight of China's games as a color commentator.
Make that an overwhelmingly popular color commentator.
Qi Xin, chief of the CCTV crew that's broadcasting the event, credits Yao with a spike in the tournament's ratings.
"He's made a big difference," Qi told the Basketball Pioneer. "He's definitely attracted eyeballs. Audiences always want to hear him. No matter what he says, it will become a headline.
"So far, he's done a great job. I will give him 90 points."
Qi said the TV ratings for Yao's first game - China's group matchup against Bahrain - climbed to 1.3 percent on Sept 15, while the NBA Finals usually peak at 1.1 percent.
Yao doesn't just bring his knowledge of tactics and techniques to the broadcast table. He also uses his trademark sense of humor to keep the TV audience entertained.
After China veteran Wang Zhizhi dunked powerfully Monday night against Syria, Yao joked with Wang saying "The last time you dunked the ball, your 6-year-old son hadn't been born yet."
Making fun of opponents' attempts to guard Yi Jianlian, Yao suggested "they could try using pepper spray on their hands and wave them in front of Yi's face when he posts up."
After the games, Yao conducts interviews with his former teammates and offers advice for the squad's improvement.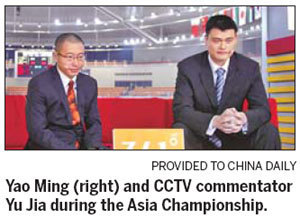 His close ties with the team nets him better interviews - players tend to talk more freely than they would with regular reporters.
"Yao did a great job. He is very knowledgeable," TNT's leading commentator, Kenny Smith, said on his micro blog recently.
Inside the stadium, where spectators can't watch the TV broadcast, the "Yao factor" is also in full effect.
During game breaks, fans stare at Yao's commentating box at the top of the stands while shouting his name fiercely in a salute to their idol.
Some supporters gather around the box after the last game every day, hoping for a close glance of the giant.
Still, Yao isn't planning his future around a career in broadcasting, stressing "I've just come to cheer for the Chinese squad."
"I won't copy Kenny or (Charles Barkley's) way to shine on TV after retirement," he said. "I just want to share my experience with the audience. Let the fans know players' real feelings on the court and what really happened there.
"TV commentating is actually as tough as playing on the court for me.
"I've got a lot of homework to do before each game's broadcast, just like the daily training I had before."
Yao arrives at the venue hours before the tip-off and collects each team's scouting report. He even asked friends in the NCAA for some naturalized players' background information.
"He is so dedicated to do this job, even though it's just for this event temporarily. With this kind of work ethic, I believe he could do every thing well in the future," Qi said.
China Daily
(China Daily 09/22/2011 page24)