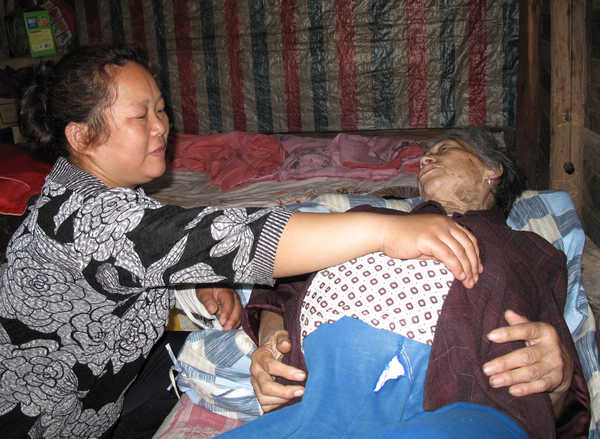 Gong Huan'an, a committee head of Tingsi community in Xianning city, Hubei province, looks after an old woman affected by floods in her community on Thursday. [Guo Rui / China Daily]

XIANNING, Hubei - During the recent flood season, a grassroots leader has been exhausted by her efforts to protect her community in Central China's Hubei province.

"I haven't been able to sleep well lately," said 50-year-old Gong Huan'an. "I felt that I was always hearing the sound of torrential rains."

Gong said she had less than five hours' sleep a day in the past four days.

Gong lives in Tingsi community in Xianning city, which is a cultural and historic town with many buildings from the Ming (1368-1644) and Qing (1644-1911) dynasties.

More than 3,680 people in 1,170 households live in the community where Gong serves as the head of the neighborhood committee. More than 80 percent of residents are elderly.

"Every time when I feel danger is coming, I worry most about the old people," Gong told China Daily, recalling her experiences fighting the floods in the past few days.

On June 13, Gong received a short message saying that heavy rain was coming. She then rushed around her community to tell the residents to move immediately.

Gong was frustrated because most of the aged people were reluctant to leave their houses over worries that the flood would wash away their belongings.

Although Gong suffered a fracture in her left hand, she still tried her best to help the locals to move their property out.

"I used my neck to clamp the umbrella, holding a television in my right hand and holding a quilt with my teeth," Gong said.

She said she could not believe she had enough energy to rescue so many people and so much property.

"I got 11 elders out," she said. "Some I carried on my back, while I held some in my arms.

"It was very dangerous. The highest water level reached 1.5 meters. I felt I was almost floating in the water."

Gong went to sleep at 1 am and woke up at 4:30 am on each of these days. She said she could not help opening the window regularly to see whether it was raining.

Although Gong was not born in Tingsi community, she thinks of it as her hometown as she has lived there for 30 years.

"I almost lost my life here," She said, recalling the huge flood of 1998, when she was almost washed away while trying to rescue people.

"I just want to continue to help my neighbors, no matter how hard it will be."

Gong said she would work until she could no longer move.