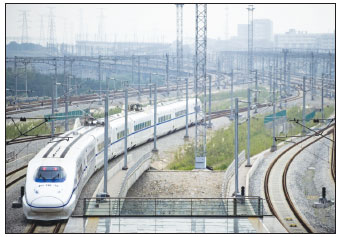 An aerial view of the East Lake High-Tech Development Zone in Wuhan, Hubei province. Located in the central hinterland, Wuhan is emerging as a popular destination for foreign and domestic investment. Zhou Chao / For China Daily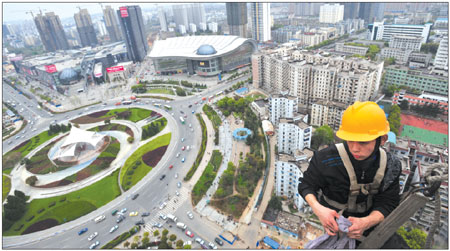 A high-speed train leaves the Wuhan Railway Station. The advanced transportation system of the city would help investors reach a huge market in neighboring regions. Stefen Chow / Bloomberg
Wuhan, capital of Hubei province, was once a politically and economically prominent city in the early and mid-20th century because of its strategic location in Central China. The city sits at the intersection of the middle reaches of the Yangtze and Hanjiang rivers. It is within easy reach of China's major economic powerhouses of Shanghai, Guangzhou and Chongqing, all of which lie within a 1,200 km radius of the city.
But the natural advantages did not help Wuhan maintain rapid economic growth.
Investors flocked to the country's eastern areas since its reform and opening-up in the late 1970s, before rushing back to the west after the western development drive in 1999. Amid all these, Wuhan was stuck in the middle and left behind by the country's economic wave.
However, with the rising cost of labor and raw materials weighing down industries in the east, those in the west are now struggling to cut back on transportation costs. As a result, Wuhan has emerged as a popular destination for foreign and domestic investment.
Many Wuhan supporters say that, equipped with maturing infrastructure as well as a cheap and skilled workforce, the "sleeping giant" is awakening and ready to roar.
The number of Fortune 500 companies in Wuhan has grown from 60 to 81 in the past five years alone. Up to $13 billion of foreign investment had been poured into Wuhan during the same period, maintaining an average annual increase of 13.6 percent.
Domestic investment also hit a record high last year, reaching 50.6 billion yuan ($7.8 billion), the local government reported.
Lan Hongbo, standing vice-director of Wuhan's investment promotion bureau, has witnessed a rapid increase in investment in Wuhan since 2005.
"In the 1990s, we could hardly find projects worth $10 million, but now we can land projects at about $1 billion. That's significant progress," Lan said, attributing Wuhan's recent success in attracting investment to the bullet train service between Wuhan and Guangzhou, capital of Guangdong province.
Lan said his bureau failed to convince Ikea, the world's largest furniture retailer, to open a store in Wuhan in 2006. But when news of the bullet train service was announced in 2007, Ikea came back and offered to build its second-largest shopping center in the world.
The 1,068-km high-speed rail, which started operations in December 2010, has cut the traveling time between Wuhan and Guangzhou from 10 hours to about three hours.