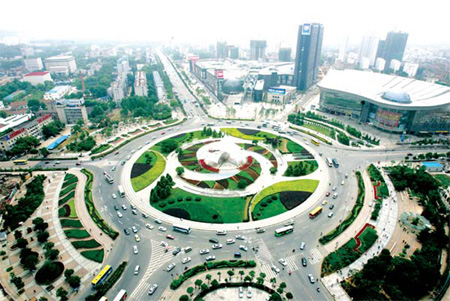 Aerial view of downtown Optics Valley Photos Provided to China Daily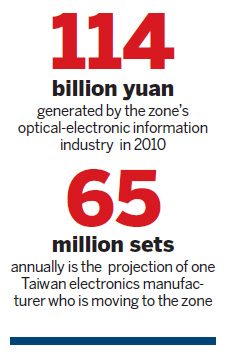 In a production area in the Wuhan's East Lake High-tech Development Zone, an elevator is being tested in a 128-meter-tall building. If things go as planned, it could make history.
Its developer, the Wuhan Intelligence Elevator Co Ltd, has a contract to export 40 of these Chinese-designed elevators to the United States, the first of their kind to be exported across the Pacific Ocean.
Now that would be a bold move and reverse the normal flow of things. But, that is not the priority for Chen Chunxing, the company's board chairman. He is more concerned, this year, not with exporting elevators, but technology transfers.
Chen said that manufacturers in Bombay, India, Chittagong, Bangladesh, and Lahore, Pakistan have approached him about the possibility of establishing join ventures in their countries.
What they want, he said, is the Chinese company's technology, much of which is among the highest in the world.
Its remote monitoring system, for example, allows it to fix problems in elevators thousands of miles away. And its laser and infrared ray scanning technology make the elevators much safer.
Intelligence Elevator is just one of many optical-electronics companies clustered on the Wuhan development zone, also known as China's "Optics Valley".
As its name indicates, people in the zone see themselves as being the vanguard of China's optical-electronics. And they have come up with many firsts: China's first optical fiber and optical transmission systems were made here.
Wuhan is the capital of Hubei province, and the zone was chosen as a national proprietary innovation demonstration site at the end of 2009, making the city comparable to Beijing's Zhongguancun, a high-tech business hub.
The zone has helped set 150 industrial standards, five of which are used globally and 100 of them, nationwide.
The zone is also the country's first model intellectual property area. Dan Changchun, its administrative vice-director, explained its importance, by saying, "Optics Valley's commitment is to provide technology support for the development of Wuhan, Hubei and even the entire central and western region of China.
"Without core technologies, a company or an area cannot have sustainable growth."
All the spending on R&D has paid off, one example being the Huagong Tech Co Ltd, a hometown company involved in laser and optical-electronic equipment.
Its annual sales revenues, in 2010, increased 30 percent to 2.1 billion yuan (about $320 million), and it made 250 million yuan, a 70-percent jump over 2009.
The fact that profits grew faster than sales is simply a reflection of the value of R&D, explained Ma Xinqiang, its chairman of the board.
Increased spending on R&D brought a change from a simple, low-cost assembly mode to high-end production, allowing for a greater profit margin, Ma went on to explain.
He said his company plans to expand production output to 10 billion yuan by 2015, nearly five times the current amount. To do this, they are also depending on technological progress, he added.
Yet another example is the Routon Electronic Co Ltd, which grew thanks to strong innovation. Its new products last year capitalized on the trend to combine telecommunication and broadcasting networks with the Internet to allow people to surf the Internet via TV and pay water and power bills from their own home.
The zone's optical-electronic information industry generated more than 114 billion yuan in revenues in 2010, and its optical fiber and cable output is among the world's highest.
The sector is projected to increase annual revenues to 380 billion yuan over the next 10 years, Dan said.
In addition to optical-electronics, four other sectors - biomedicine, energy saving and environmental protection, machine manufacturing, and high-tech services - are expected to become pillar industries.
Other hometown companies like WISDRI Engineering & Research Inc and Wuhan Kaidi Electric Power Co Ltd have become leaders in their fields.
Other high-tech firms like Huagong Tech, Fingu Electronic Technology, and Huazhong Numerical Control have been listed overseas.
And, this robust growth has caught the attention of overseas investors. More than 100 prominent companies and institutions have established facilities in the zone.
They include global pharmaceutical giant Pfizer and the Asian pharmaceutical company WuXi AppTec.
Taiwan's electronics manufacturer Foxconn is moving its desktop and monitor production to Wuhan. Its plans are for 65 million sets annually. That would make Optics Valley the world's largest desktop production center.
Along with Foxconn, component providers such as Bestec Power Electronics and the MGE Group have plans to make their presence felt in the zone.
But, then, Optics Valley has always been on the world stage and has competed with international players, Dan said.
(China Daily 03/14/2011 page3)