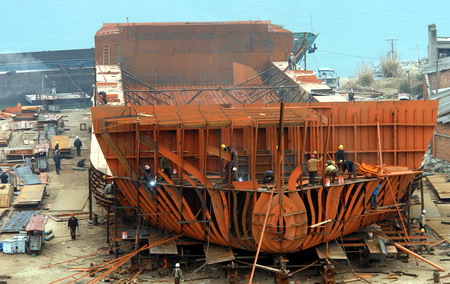 Workers in a shipbuilding base in Yichang, Hubei. China became the world's largest shipbuilder in terms of contracts volume in the first half of 2010. [Photo  / China Daily]


China's shipyards delivered less than 80 percent of their existing orders in the withering global shipping market, said a report from the China Association of the National Shipbuilding Industry (CANSI).

A total of 70 million deadweight tonnage (DWT) of ships were scheduled for delivery in 2010, but only 56.76 million DWT were actually delivered by Chinese shipbuilders by the end of November, 72.8 percent of the total orders, according to the CANSI report.

The global financial meltdown has dealt a severe blow to the global shipbuilding industry, and many China shipbuilders' clients had to postpone deliveries due to stringent cash flows or shrinking demand, said Zhang Shengkun, president of the Shanghai Society of Naval Architects and Marine Engineers.

Clients usually pay upfront 20 percent of the total price of their orders, followed by the remaining 80 percent upon delivery.

"Small-time customers are more speculative than regular clients. Before the outburst of the financial crisis, some small-size companies ordered many products from China's shipbuilders to make a scoop, but the financial crisis dashed their hopes," said Li Guanghua, an industrial analyst from Sinolink Securities.

According to Li, the price of a standard capesize bulker, a 175,000 DWT vessel for delivering iron ore, has dropped 40 percent to $60 million from nearly $100 million before the global financial crisis.

"The 20 percent reduction in down-payment is merely half of the price gap," Li said.

The Baltic Dry Index, which tracks the worldwide international shipping price of various dry bulk cargoes, dropped from above 10,000 before the global financial crisis to below 1,800 post-crisis.

Related readings:


 Economy slows shipyards' IPO plans


Shipyards mired in troubled waters 


 New shipyard opens in Dalian


Statistics showed that China has surpassed the Republic of Korea to become the world's largest shipbuilder by volume of contracts, newly increased contracts and completed orders in the first half of 2010.

Domestic shipbuilders received 43.9 million DWT new orders in the first 10 months in 2010, up 118.2 percent year-on-year, accounting for 46.1 percent of the global total volume, according to Guo Yaling, an analyst from CITIC Securities. "Such momentum will continue in 2011 with a more than 30 percent increase in terms of completed orders," he said.

Shanghai Bestway Marine Engineering Design Co Ltd and Hunan-based Sunbird Yacht Co Ltd were successfully listed on the ChiNext board for start-ups in Shenzhen in 2010.

In November, Jiangsu Rongsheng Heavy Industries Group Co raised as much as HK$14 billion ($1.8 billion) in a public offering exercise in Hong Kong, quickening its objective to be the nation's top shipyard.

CANSI estimates China's shipyards will realise more than 670 billion yuan ($101.39 billion) of revenues in 2010, and more than 40 billion yuan of profit. The shipbuilding industry made a profit of 31.64 billion yuan in the first 11 months in 2009.

But Zhang warned China's shipbuilding industry still faces many problems. "Although China has become the world's largest shipbuilder, the sector can't produce value-added, high-end products," Zhang said.

"In addition, China's shipbuilders have to counteract the appreciation of the yuan and rising costs. That will be a real challenge," he added.