Kasim Reed, mayor of Atlanta, knows his city cannot become a truly international metropolis without a strong relationship with China.
Reed, who regards himself as a "citizen of the world", has been cultivating his personal engagement with China for years by participating in local Chinese-American activities and promoting Chinese businesses.
"I have watched and admired China's growth and development, and I don't think you can be a truly international city without having a strong relationship with China," he told China Daily in his office last week.
Reed, who will be making his first trip in the first quarter of next year, said he is amazed by China's high-speed rail development and Beijing's successful hosting of the Olympics in 2008.
China is "a country that works well" and Reed said he can learn a great deal from his counterparts. Reed has included China into his vision of the city.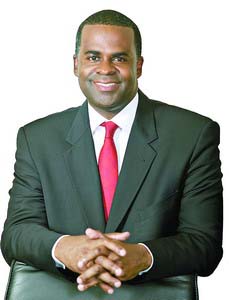 Kasim Reed, mayor of Atlanta.
"I believe we are going to be the logistics center for the Western hemisphere," he said. "At the end of the day, the city of Atlanta is going to move from being an aspirational world-class city to being a city that by every important measure is world class."
"Which is why the relationship with China is so important as we move toward increasing globalization and interconnectedness," he said.
Atlanta, dubbed the "Heart of the South" or the "Capital of the South", is well known in China because of the 1996 Olympics.
But its reputation as an important transportation and business hub in the US is less familiar. It ranks fourth in Fortune 500 companies headquartered within city boundaries, behind New York City, Houston and Dallas. Many multinational companies, such as The Coca-Cola Company, Home Depot and UPS, are based in the city. Reed believes Atlanta's strong fundamentals can be very attractive to Chinese investors.
In addition to the "irreplaceable" transportation networks in air, railroads and highways, as well as pleasant weather and relatively low business operation costs, the city is as a popular destination for the well-educated young.
"We are the No 1 city in the US attracting college students aged between 24 and 35," Reed said.
Many Chinese businesses have recognized Atlanta's advantages. Sany, the largest heavy equipment manufacturer in China; Hisense, a major electronics manufacturer; and Huawei, the country's largest telecommunications equipment supplier have built their US bases in the city.
Last December, the Hubei provincial government hired Chinamex, which helps Chinese firms expand overseas, to operate a China Hubei Enterprises Marketing Center in Atlanta.
Chinamex, which has similar offices in Amsterdam and Dubai, will bring more than 100 Chinese companies through its first US office. To enhance the China relationship, Reed has mapped out a strategy which starts with a "complete personal engagement".
In addition to meeting diplomats and business executives, his administration is learning from UPS, a company with a very strong presence in China, about developing stronger ties and identifying strong partners as well as relating culture and tradition to business practices.
Chinese-American organizations, such as the National Association of Chinese Americans (NACA), have also played significant roles in promoting understanding and relationships between the two countries, Reed said.
The 2010 US-China Business Conference, hosted by NACA, started on Monday in Atlanta. It brought together industry leaders from the US and China to share their practices and strategies on pursuing markets in China.
But Reed also knows Atlanta will face fierce competition from other cities and countries in accessing China.
"There is a long line. The question is: How can you break through and how can you stand out? " he said.
China Daily