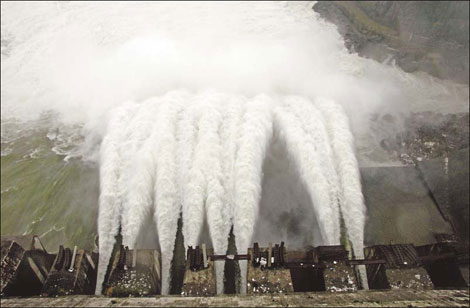 Floodwaters discharged from a hydropower dam at Danjiangkou Reservoir, Hubei province. Wu Danming / For China Daily
Capacity to jump 90 percent by 2020 to help meet climate change pledge
KUNMING - China will boost its installed hydropower capacity by 90 percent to 380 million kW by 2020 in an effort to meet the nation's pledge at last year's Copenhagen climate conference to generate 15 percent of its power from non-fossil sources by the end of the decade, said a top energy official.
"The expansion is necessary for China to meet its target of reducing carbon intensity by 40 to 45 percent by 2020 based on 2005 levels," National Energy Administration Director Zhang Guobao said at the ceremony marking the centenary of China's hydropower development.
Zhang's remarks signal a fresh start for the hydropower sector, whose development almost ground to a halt in recent years. He pledged that the new projects would be developed under stricter approval procedures paying more attention to environmental protection, the rights of relocated communities and land resources.
"If the current approval procedures do not change, it will be very difficult for the government to realize its hydropower target and the 15 percent non-fossil energy goal," said Yan Zhiyong, director of the Planning and Design Institute of the Ministry of Water Resources.
Hydropower will have to account for 60 percent of China's non-fossil energy by 2020 if the country is to meet its target, he said.
Experts estimate that of China's 542 million kW of exploitable hydroelectric potential, only 400 million kW is suitable for hydropower construction.
Zhang said in an earlier interview that hydropower would account for 9 percent of the nation's power generation, with nuclear power unlikely to exceed 4 percent, and wind and solar power making up the remainder.
To meet the target, around 1 trillion yuan ($147 billion) would be invested in building dams over the next five years, said Zhang.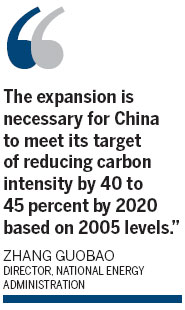 Dongfang Electric Machinery, one of the two largest hydropower equipment makers, expects the next five years to be an intense period for the company if the dam projects are to be completed by 2020, according to Marketing Director Tang Wei.
However, top officials from Harbin Electric Machinery, which accounts for half of the country's hydropower equipment output, expressed concern over the industry's development due to the environmental and migrant-related issues involved in dam building.
Liu Qinghe, the company's project manager, said hydropower orders fell significantly this year and the company "has not signed any contracts so far this year".
But overseas hydropower orders have increased in recent years and the company is exploring markets in Indonesia, Myanmar and South America.
Siemens, the earliest hydropower equipment supplier in China, said the market has developed slowly in the past few years and it is experiencing strong competition from local suppliers whose prices are generally 10 to 20 percent lower, according to Wang Changmin, vice-president of Siemens China.
As competition intensifies in equipment supply, the company is attaching more importance to hydropower transmission and distribution.
Last year, Siemens put into operation the Yunnan-Guangdong high-voltage direct current (HVDC) link, the world's first 800 kilovolt HVDC link, transmitting hydropower to the electricity-hungry economic powerhouse of Guangdong.
"China's ambitious low-carbon development plan will present more opportunities for Siemens as a company with a long history in the country and with the world's largest environmental portfolio," said Cheng Mei-Wei, president of Siemens China.
China Daily
(China Daily 08/27/2010 page15)