WUHAN - More than 30,000 soldiers, emergency workers and residents have stood watch over dikes on Wednesday near Wuhan, capital of Central China's Hubei province, as the city braced itself for floodwaters to arrive from two swollen rivers.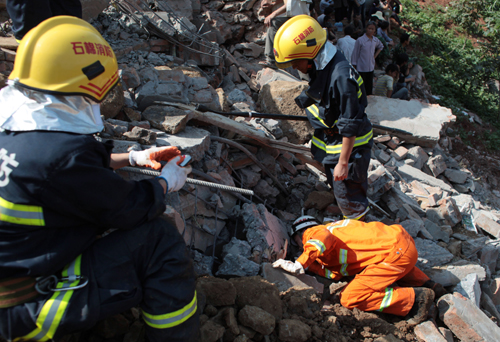 Rescue workers use life-detecting instruments on Wednesday to search for survivors in Hanyuan county, Sichuan province, after a landslide caused by heavy rain on Tuesday left 21 missing and destroyed 58 houses. [Xinhua] 

The Changjiang Water Resources Commission said that flood peaks from the Yangtze River and the Hanjiang River, the Yangtze's largest tributary, were expected to converge in Wuhan within 24 hours.

"It is very rare for the two rivers' flood peaks to arrive in Wuhan at the same time," said Hu Xiaohei, an inspector from Wuhan's Bureau of Water Resources.

The city, with a population of about 9.1 million, stands at the forefront of China's latest battle against floods, which has left 928 people dead and 477 missing so far this year as of 9 am on Wednesday, the State Flood Control and Drought Relief Headquarters said.

"The city's ability to control the huge amount of water is certainly being tested," Hu said.

The Hanjiang River has been above the warning level for eight consecutive days and on Thursday is expected to rise to its highest level in two decades.

As a precaution, by Wednesday morning Wuhan flood authority had evacuated 5,000 residents in nearby Xiantao city and another 25,000 in southeastern Wuhan.

In Xiantao, workers were on standby on Wednesday to open floodgates to divert water from the Hanjiang to a reservoir, which covers 450 sq km.

The area, which stretches from Xiantao to southeastern parts of Wuhan and contains farmland and fish ponds, is designed as an emergency reservoir during serious floods.

"We won't divert the water until it is absolute necessary," said an official from the province's flood control headquarters.

"Scientific flood control measures are our first choice. If the gates must be opened, we will make sure costs are kept down."

The official said that, by parting the flood, the level of the Hanjiang could drop tens of centimeters to 1 meter, which would be a great relief to Wuhan city.

If the water is not diverted, dikes protecting two of the three major districts in Wuhan and nearby Hanchuan city might be breached, local water resources officials said.

Continuous downpours have also recently raised water levels on the upper reaches of the Yangtze River, causing flow rates as high as 56,000 cubic meters per second to hit the Three Gorges Dam at 8 am on Wednesday, engineers said.

The floods pushed the water level of the Three Gorges Dam up to a record high of 158 meters, about 10 percent less than the dam's maximum capacity of 175 meters, according to local authorities.

A Three Gorges Corporation official said the dam withstood the flow, maintaining a water discharge rate of 40,000 cubic meters per second since Sunday.

Vessels' transit through the Three Gorges Dam has been suspended for the second time this month to prepare for the flood, leaving 100 vessels stranded on either side of the dam on Wednesday.

Meanwhile in Luanchuan county of Central China's Henan province, where a bridge collapse killed at least 37 people and left 29 others missing, officials said on Wednesday that recovery work was becoming more difficult.

As the water level dropped, the thickness of the mud and sand hindered the search for the missing, said Xu Pingchuan, deputy Party secretary of Luanchuan.

The rescue headquarters counted the number of bodies retrieved and asked each family in towns near the bridge whether anyone they knew was missing.

In 2009, the local transport bureau spent 600,000 yuan ($88,235) to maintain the 233-meter bridge, which was built in 1988 and designed to bear 20 tons.