On July 26th at Wuhan University of Hubei Province, Hundreds of volunteers gathered to hold a memorial ceremony for Zhao Xiaoting, a young student volunteer who died in an accident while assistant teaching in a rural primary school of Guizhou Province. Ms. Zhao, 20, was killed by a falling rock that struck her during a training exercise in which she was required to walk along a dirt road next to a hill that had been pummeled by torrential rain for several days.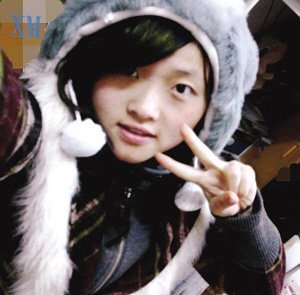 Zhao Xiaoting.
Zhao Xiaoting enrolled at Wuhan University in 2008 and majored in Electrical Engineering. She chose to volunteer for community service projects instead of spending summer holidays at home with her family. After celebrating her 20th birthday in Wuhan on July 12th, Zhao set out for a central primary school in Machanghe village of Guiding County, Guizhou Province.
"The children in this village are really poor, so knowledge is the only hope for them to change their fate. I want to help them," Zhao wrote in a message to her teacher before leaving. She planned to volunteer as an assistant teacher for one month. She also taught in Hunan Province for one month of the summer last year.
The school was located in a mountainous area far away from the county's nearest town. Zhao and her teammates used a crude classroom as their temporary dormitory, and bathed in a nearby stream.
"Life here is a little bit hard, but the view is prettier than in the city, and the air is fresh. Fight on! " Zhao used to tell her fellow volunteers to encourage them.
After only one week, Zhao became best friends with all the children. She taught safety, English and chorus lessons while also helping them after school with their homework and sports activities.
On July 21th, the team was carrying out a training activity at a local mountain that had been hit by heavy rain for the previous few days. Zhao was hit by a big rock rolling down the hill while she was walking on the rugged mountain road. She died before arriving at the hospital.
Wuhan University has set up a website to cherish the memory of Zhao Xiaoting, on which there are now already thousands of words left by visitors.
"I am proud of my daughter; I hope she will forever stand on this stage." Zhao Songgao, the father of Zhao Xiaoting, said with tears in his eyes.