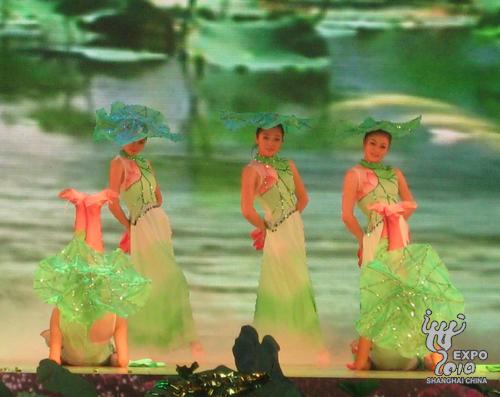 Artists from Hubei province perform at the the Baosteel Stage in Shanghai Expo garden.
On Monday, July 19, The Hubei Culture Week began at the Baosteel Stage in Expo garden.
"We welcome people from all over the world to experience the beauty and richness of Hubei, as well as the hospitality of our people there," Luo Qingquan, secretary of the CPC Hubei Provincial Committee, said in his invitation to the world.
During the five-day event, more than 400 Hubei artists will show visitors the colorful culture of Hubei through their special performances, including folk arts, items of intangible cultural heritage, traditional dancing and singing.
Together with Expo-themed lectures and conferences on commercial cooperation, this week gives Hubei province a chance to reveal its charm to China and the world.
Hubei, known as "a province of a thousand of lakes," is also the cradle of Jingchu culture.
"With this opportunity, the Hubei week will show the harmony between Hubei's water, city and people," Luo told China Daily.