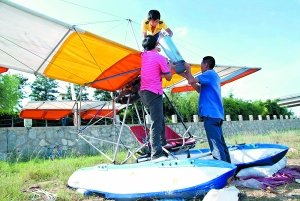 The floatplane built by Xiong Tianhua.
[Guangzhou Daily] 
A 35-year-old Chinese farmer has completed building a floatplane and plans to make a test flight on a local river later on Wednesday, Guangzhou Daily reported today.
Xiong Tianhua, a local farmer from Heyuan City of South China's Guangdong Province, has been fascinated by making planes for the past 16 years and built five small aircraft before the floatplane, but failed in all the previous five attempts.
The new floatplane made by Xiong is still a very small one and its "fuselage" is actually just the seat of the aircraft. It also has two pontoons mounted under the "fuselage", according to the photo released by Guangzhou Daily.
Xiong told the newspaper that his floatplane has been equipped with a special aircraft engine, digital engine tachometer and what he called "a black box" – a water-proof camera phone which could record the whole process of the test flight.
The man said he began to build the new floatplane with his helper Chen Long, a college student from Hubei province, on July 7 this year and the cost of the aircraft is about 100,000 yuan ($14,706).
He told reporters he decided to make a floatplane because it is much safer than conventional planes which take off and land on runways. Besides, he lives in "Water City" Heyuan, known for its two large reservoirs and two rivers.
The test-flight is expected later on Wednesday in Heyuan city's Dongjiang River. Xiong said he planned to set up a floatplane club in the city if his test flight was a success.
Xiong, who has been called a "crackpot" by some local people, had to quit school at the age of 14 due to poverty. However, he has kept on learning while working to earn money outside his hometown and never given up on his dream of flying.