EDITOR's Note: "Home & Away" is a section about the life experiences of expats living outside of the major metropolises like Beijing and Shanghai. If you are such an expat and have an interesting story to share, please send an e-mail to expat@chinadaily.com.cn.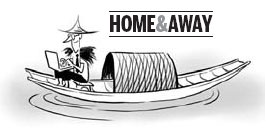 Cao Anh Quyen has been studying and living in Wuhan, Hubei province for three years, but the Vietnamese student still hasn't adapted to the city's climate.
"It's too hot in summer and too cold in winter, which makes Wuhan a hard place to live in," she says.
Known as one of China's "three furnaces", Wuhan's temperature often reaches 40 C in summertime, while often dropping to below zero in winter.
Quyen grew up in the subtropical city of Hanoi and saw snow for the first time in Wuhan three years ago. She was excited then but now hates the stuff because it means freezing cold weather.
Despite the harsh weather, Quyen likes Wuhan because "its people are warm, especially to foreigners".
Since, it is not always easy to tell a Vietnamese from a Chinese person and Quyen speaks fluent Chinese, she says she is often mistaken for a local.
It's only when she speaks Vietnamese to her compatriots that people realize. Still, she says, many people then ask: "Where are you from? Guangdong province?"
When she tells people that she's Vietnamese, the response is often, "Are you of mixed blood?" because many people think Vietnamese tend to be darker than Chinese.
Even more dismaying for Quyen is that some people have not even heard of Vietnam.
"I tell them, 'Why don't you know Vietnam? Do you not watch TV or read newspapers?' They say, 'Not very often!'" she says.
In Vietnam, Quyen says, everyone knows about China, though people of her generation do not have much knowledge of the war between the countries 31 years ago.
"Now that China and Vietnam have a friendly relationship and do business with each other, not many people care about the war which happened a long time ago," she says.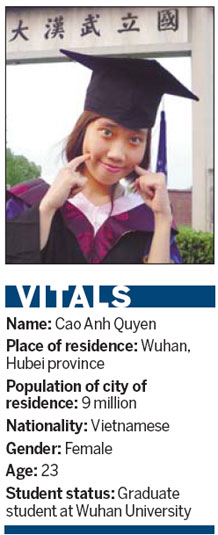 The Chinese Department of Hanoi University, which stopped recruiting students for a decade after the war, is now expanding rapidly as studying Chinese has become popular in Vietnam. Many Chinese companies are investing in Vietnam and providing jobs for Vietnamese people who speak Chinese.
Quyen chose Chinese as her major because it would provide job opportunities and she seems to have a talent for it. She studied at the Chinese Department of Hanoi University for two years, and then for another two years at Wuhan University, which has links with Hanoi University.
"Chinese is not very hard for me because its grammar is similar to that of Vietnamese, and some words have similar pronunciation," she says. "Also I have a deep interest in Chinese culture."
However, Quyen admits that Chinese characters are difficult. Vietnamese people used to use Chinese characters before they adopted the current writing system based on Latin letters, but it has been three centuries since the pictographic system was dropped.
After obtaining a bachelor's degree, Quyen got a scholarship from the Confucius Institute to continue with her graduate studies in Chinese at Wuhan University. Besides covering tuition and accommodation fees, the scholarship also provides a living allowance of 1,700 yuan ($250) per month in Wuhan.
Quyen could have opted for a university in Beijing or Shanghai for her graduate studies but opted for Wuhan University because it is cheaper in Wuhan and she likes the campus.
"We have a very nice environment here. I like the water, mountain and cherry blossom. In the morning, I can see the beautiful sunrise on East Lake which is just next to the university," she says.
Quyen says while food is generally cheaper in Hanoi, she finds that many things, especially electronic appliances, are cheaper in Wuhan. She bought her Nokia cell phone and Dell laptop here. She also says Wuhan has a better bus system and less traffic jams than Hanoi. Quyen does not feel lonely, for there are more than 300 Vietnamese students at Wuhan University, and there are still more in other universities in Wuhan.
Next year Quyen will finish her graduate studies and plans to return to Vietnam to get a job promoting Chinese culture.
Before leaving China, she expects her parents, grandma and aunt to go to Wuhan next summer to attend her graduation ceremony, and travel with her around China.
China Daily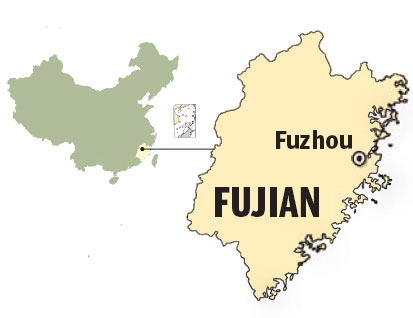 (China Daily 06/29/2010 page18)