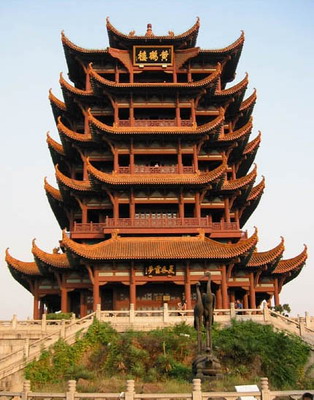 Located on the Snake Hill in Wuchang, Yellow Crane Tower is one of the four famous towers in China. According to records, the tower was first built in 223 AD as a Wu Kingdom military lookout. Over its 1,700-year history, Yellow Crane Tower was destroyed many times in different dynasties, only to be rebuilt again and again. Construction of the present tower was completed in 1985.
Among the famous towers south of the Yangtze River, Yellow Crane Tower has been the most inspirational for celebrities and poets. It faces the great Yangtze River northwards, with the other three sides facing the downtown areas. The architectural complex comprises the tower, the pavilions, the corridors and the honorific arches.
The five-storey tower is 51.4 metres high. Strolling through the corridors of the tower and the pavilions, you can have a great view of the city, the bridge and the river.
In the shadow of Yellow Crane Tower is White Cloud Pavilion on top of Snake Hill, which is four-storied and 29.7 metres high. This is how Wuhan got the nickname of White Cloud and Yellow Crane.