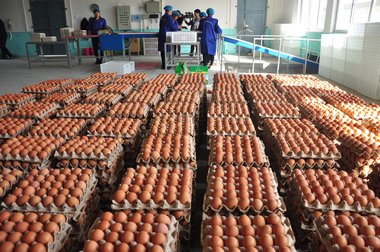 Eggs of the Zhongwang Agriculture Co ready for the market, on Oct 28. [Photo by Yao Hui / Jinri Ruzhou]

An egg operation near the city of Ruzhou, Henan province, is working on a pilot project to breed chickens that produce top-quality eggs with some traditional medicine items, for both value and healthy living.

The Zhongwang Agriculture and Livestock Co, in the town of Zhifang, near Ruzhou, is using an advanced feeding process and fodder containing traditional Chinese medicinal elements, vitamins and other nutritional items. It also makes sure that its eggs do not contain any antibiotics.

Its eggs now have a stable market, mostly for high-end customers and the company plans to increase its brood to 350,000 hens by next year, for an annual output worth 80 million yuan ($13 million).