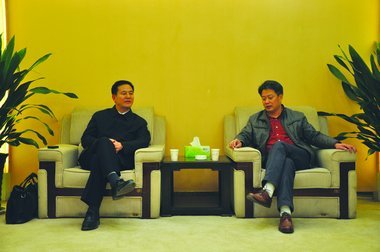 Li Quansheng, secretary of the Ruzhou municipal Party committee, and Wan Ying, mayor of Ruzhou, met with Sun Jiekuan, chairman of the board of Henan Haitai Technology Co, on Dec 9.
During the meeting, the participants discussed the company's touch panel module and carbon fiber material projects.
Officials of the Ruzhou municipal Party committee and the management committee of the Runan Industrial Cluster also took part in the meeting.
Henan Haitai Tech Co engages in the manufacturing, sale and technical research and development of energy-conserving equipment and solar photovoltaic equipment. The company's products have been applied in a variety of areas, including electrical systems energy conservation, lighting energy conservation, air-conditioning energy conservation and high-pressure energy conservation.
Haitai's project in Ruzhou will cover an area of 53.3 hectares. With an investment of 460 million yuan ($75.76 million), the project's first phase will focus on the basic construction, equipment and production of the touch panel module as well as the infrastructure construction of carbon fiber materials.
The first phase is estimated to go into production in December 2014 and yield annual revenues of 800 million yuan.
The project's second phase will invest 1.42 billion yuan to expand the production of touch panel modules and begin the production of carbon fiber material. Annual revenue is expected to be 2.47 billion yuan after completion in October 2015. ,
The whole project can provide jobs for 6,000 people. Sun presented a detailed introduction of the company and the project at the meeting. The attendees also discussed issues related to the project's operation.
Li spoke highly of Haitai's advantages in economic strength and top talent personnel. The project, with advanced and high technology, has broad and optimistic prospects, Li said.
Wan welcomed investments in Haitai and pointed out that the government will support the project with preferential policies. Problems in project operation were discussed and analyzed with the company heads.
Officials of the city's commerce bureau and water conservancy bureau also shared their opinions and advice regarding the project at the meeting.
Edited by Liu Yufen and Michael Thai