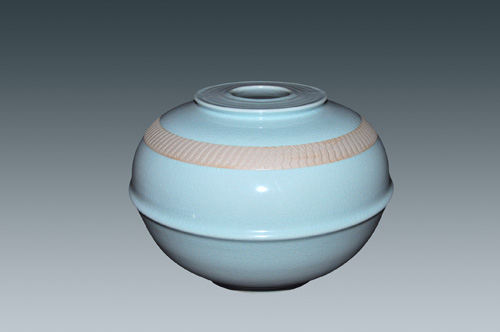 Xuanhe Zun [Photo/chinadaily.com.cn]
Xuanhe Zun ("Zun" is an ancient term for wine vessel), a Ru porcelain work, was awarded a gold medal at the 14th Contemporary Arts and Crafts Masterwork Exhibition, Chinadaily.com.cn reported on Nov 6.
Xuanhe Zun is a representative work of Ruzhou Yusong Ru Porcelain Co. It was designed and made by the company's general manager and art director, Li Xiaojuan and Wang Dexin, respectively. They are also known as Ru porcelain masters in Henan. Li Xiaojun is an inheritor of Ru porcelain as an intangible cultural heritage.
In addition to Xuanhe Zun, Yusong Ru Porcelain's other exhibits were popular among visitors. They were hailed as depictions of Ru porcelain's glamour.
The Contemporary Arts and Crafts Masterwork Exhibition is an international crafts exhibition. As an authoritative exhibition in the arts and crafts field, it was initiated in 2000 and was held 13 times in succession.
The 14th session was held in the Wuhan International Conference and Exhibition Center from Oct 31 to Nov 4. A variety of arts and crafts were displayed there.
Edited by Michael Thai