Yuntai Mountain in Henan province, is a popular destination for many of my friends, and I recently set out to see why.
About two hours' drive from the provincial capital Zhengzhou, I arrive at Xiuwu county in Jiaozuo. The air is refreshing and undulating mountains are in sight.
With a sightseeing area of 240 square kilometers, Yuntai Mountain is one of the most popular tourist destinations in Henan. Landscapes like lakes, waterfalls and valleys are common in South China but rare in the north. Yuntai Mountain is an exception.
Due to its extraordinary landscapes, Yuntai Mountain was listed as one of the country's first geo-parks by UNESCO in 2004.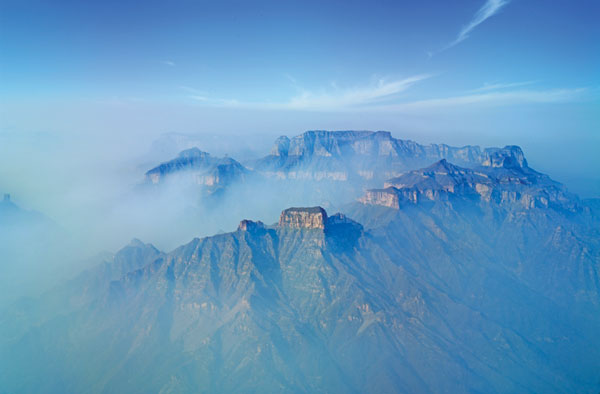 Rolling peaks look like they are floating on a sea of clouds in Yuntai Mountain, one of the country's first geo-parks in Henan province. Photos provided to China Daily
An imposing site of Yuntai Mountain is Hongshi Valley (Red Rock Valley), named after the color of the quartz sandstones.
A rock catches my attention at the entrance of Hongshi Valley. The wave pattern delicately shown on its surface makes people think that nature acts like an artist who spent millions of years working to shape the amazing feature.
Experts say those rocks were formed between 1.2 billion and 1.4 billion years ago, and the valley came into being about 2.6 million years ago through crust movements and corresponding intermittent evolution.
The widest part of this 2-km-long valley is less than 20 meters. I walk along the stone road and touch the mystical red rock. Sometimes, I have to bend down to get around a corner.
In a few minutes, a clear and peaceful lake suddenly appears in front of me, and some little fish are swimming in it.
Gradually, I hear a sound of rushing water, and a wet breeze runs across my face, which makes me anticipate waterfalls are ahead.
Water from Zifang Lake, one of the largest lakes on Yuntai Mountain, flows from north to south, forming several waterfalls in different shapes and sizes.
Some visitors simply take off their shoes to enjoy the splash.
Besides the special red rocks that stand as witnesses to geological movement, attractions including some rare species can also be found in Yuntai Mountain.
The freshwater jellyfish was found in Zifang Lake in 2002. Other rare creatures such as the Taihang macaque can also be seen in the mountains.
Leaving the valley, I head to Zhuyu Peak, the highest point of Yuntai Mountain at 1,308 meters above sea level. Sitting on a sightseeing bus on the way to the top, I'm particularly impressed by breathtaking landscape of the mountain road.
You'd better hold the handrail firmly on the bus, or you might slip from the seat because 180-degree turns are frequent on the zigzagging road.
It took the local people about 10 years to finish the road, starting from 1977. At the time machines were not widely used and people finished this tough project manually, which became the only link with the outside world.
For those who are keen on hiking, Zhuyu Peak won't let them down.
Statistics show that more than 1,200 kinds of plants grow in the peak. It was said that Sun Simiao, a famous physician in the Tang Dynasty (AD 618-907), once picked herbs here.
Following the countless steps winding up to the top, I feel excited the moment when I stand at the top of the peak. The spectacular panoramic view features rolling peaks, which are decorated with white clouds. It looks like a paradise, and the attraction of Yuntai Mountain is very obvious.
qixin@chinadaily.com.cn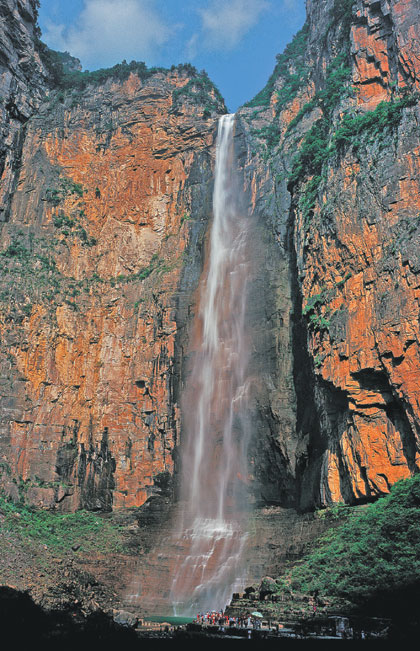 Yuntai Mountain is known for its crystal-clear lakes, spectacular waterfalls and unique rock formations.