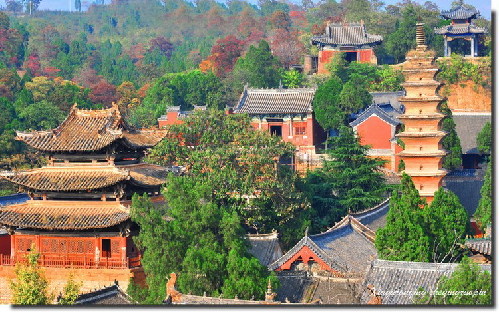 Fengxue Temple Scenic Area sits nine kilometers northeast of Ruzhou city, Henan province, and covers an area of twelve square kilometers. It is surrounded by mountains, and enjoys picturesque scenery. Inside, pagoda towers and stone tablets stand in great numbers, bearing inscriptions with records of events, and poems in various styles of Chinese calligraphy. The spring runs sideways. The whole spot is filled with key cultural relics: Fengxue Temple, Pagoda Cluster, and Fengxue Temple National Forest Park.
Fengxue Temple was constructed in the Northern Wei Dynasty (AD 386-534), and has a history of over 1,500 years. The temple has a unique layout. Its palaces and Buddha huts were built closely along the mountains, and all were well-arranged. Over 140 structures from the Tang (AD 618-907), Song (960-1379), Yuan (1271-1368), Ming (1368-1644), and Qing (1644-1911) dynasties are preserved, which is how it earned the nickname, "a museum of ancient architecture."
The Pagoda Cluster, or "Pagoda Forest," lies on the slope outside the Buddhist Temple. It spreads approximately 20 mu (13,333 square meters) and has been home to 115 structures made in ancient times, 73 of which are still left today. Among them, there are six from the Yuan Dynasty, thirteen from the Ming Dynasty, five from the Qing Dynasty, and thirty-two unidentified.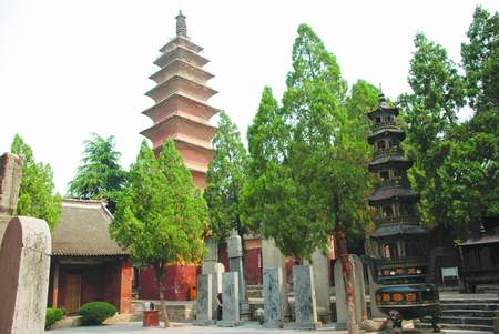 The Qizu Pagoda, from the Tang Dynasty, is a 24.17 meters high, nine-floor hollow brick tower. Every floor has four bells hung from the four corners. The pagoda cluster is a precious treasure for studying China's history of architecture, art, and religion.
The Bell-Hanging Pavilion has a ponderous iron-casting bell from the Song Dynasty, which weighs 9,999 jin (4,999.5 kilograms). Zhongfu Palace is endowed with a simple elegance, and the white-marble Buddha figure from the Ming Dynasty and the one sent from Burma both look majestic and true to life.
Fengxue Temple National Forest Park has a total area of 2,500 mu, with 98 percent forest coverage. The mountain peaks in the park have various shapes, some rising straight from the ground and some stretching out for miles.
Also around the Fengxue Temple Scenic Area, there are scattered many other scenic spots, such as Xuanwu Temple, Yishun Temple, and Wugong Cave. The morning bell and sunset drum merge with the natural scenery as one, and you should travel there.