BEIJING - Eight provinces and municipalities have released their annual enterprise salary increase guidelines, which signal the country has been making unambiguous and unwavering efforts to narrow disparities in income, experts said.
According to a notice posted by the Beijing municipal bureau of human resources and social security last Wednesday, enterprises in the capital that enjoy a sound development and achieve an increase in their profits are supposed to provide a 11 percent pay rise to their employees.
The maximum increase for workers' wages is set at 16 percent and the minimum at 3 percent, the notice said.
However, those enterprises still suffering from the financial crisis are entitled to ignore the rules and can even decrease their workers' remuneration with the approval of the labor unions or staff representatives.
Zhao Dixin, an accountant at a State-owned energy company in Beijing, said she supports the new guideline, although it will lead to a decrease in her salary.
"I have to say that, in fact, a lot of people like me who work for big State-owned companies have not got pay as high as many assume. But I still support the measure, as it is will improve the living standard of ordinary people."
Related readings:


 China considers cap on salaries at state monopolies


 Tax cuts suggested to help boost salaries


 Toyota 'open' to increasing salaries 


 KFC latest company to increase salaries


Prior to Beijing, Hebei, Shanxi, Shandong, Shaanxi, Jilin and Jiangxi provinces, together with Tianjin, have issued guidelines regulating the pay rises for local enterprises.

Hebei leads the new guidelines, allowing employers to give workers a salary increase of up to 28 percent, with the minimum pay rise stipulated as 8 percent.

"These new measures are very helpful in achieving the central government's aim of narrowing the income gap," said Lue Xuejing, a professor of social security at the school of labor economics, Capital University of Economics and Business.

"Ordinary people have long endured comparatively low pay despite their strenuous work. At the same time, a handful of elites working for some monopolies embrace unreasonably high salaries. It is necessary for the government to do something to change this unfair situation," Lue said.

There are some who wonder why manufacturing hubs like Guangdong province and Zhejiang province have yet to publish their guidelines, since they have just experienced a spate of strikes staged by workers demanding an increase in pay.

"I think the reason these provinces have chosen not to act so far, lies in their worries that releasing a guideline too hastily will inflict extra personnel costs upon local enterprises and impose additional negative impact on them," Lue said.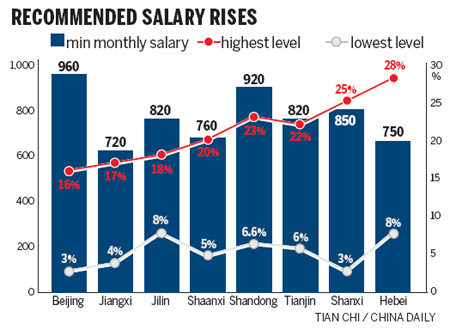 By Zhao Lei