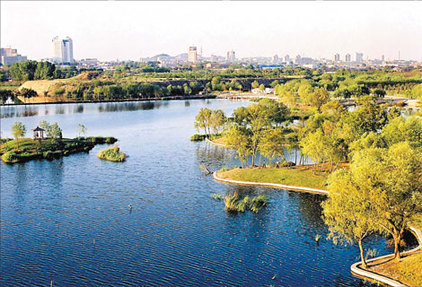 Nanhu eco-city
In the north of Hebei province, the city of Tangshan has a long, at times heartbreaking history, but today it is a modern metro area emphasizing sustainable development.
With the Bohai Sea to the south, the Yanshan Mountains to the north, Tianjin on the east, and Qinghuangdao on the west, the city is at the middle of the Bohai Bay area.
It has a coastline of 198 km and the ports of Caofeidian and Jingtang. It governs two county-level cities, six counties, six districts and six development zones within its 13,472 sq km, with 3,874 sq km of urban development. The city's total population is 7.25 million with 3.03 million in the urban areas.
Tangshan's history includes brilliant culture. Its ancient people worked hard on the abundant land beginning 40,000 years ago.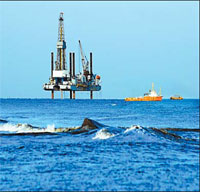 Nanbao oil platform.
Many cultures are interwoven in the area, including those distinctly agricultural, those from the central plain, culture unique to the grasslands or embracing the sea.
Folk arts like Laoting drum storytelling, Pingju opera and shadow plays are popular around Tangshan.
Many noted historical figures were born in the city, including Li Dazhao, one of the early founders of the Communist Party of China, and Cao Xueqin (1715-1763), author of one of China's greatest novels, A Dream of Red Mansions, written in Qing Dynasty (1644-1911).
Tangshan's history has led to some prized humanistic characteristics - gratefulness, philanthropy, openness and transcendence.
It is also a heroic place. In 1976, a devastating earthquake took the lives of an estimated 270,000 people and virtually destroyed a century of industrial progress in the city.
In the 30 years following the quake, the people of Tangshan built a modern city from the ruins through 10 years of reconstruction, 10 years revitalization and another 10 years of new development.
In 2006, Chinese President Hu Jintao made an inspection tour of the city on the 30th anniversary of the great earthquake. Hu put forward his strategic conception of building the city into a demonstration region for scientific development.
Following President Hu's instructions, Tangshan's people are accelerating the process of transformation away from resource-dependent city to build Tangshan into a new ecological city.