Skywalker works on bringing Dawaz in title events
Updated: 2013-07-16 17:39
(Xinhua)
| | | | | | | | | | | |
| --- | --- | --- | --- | --- | --- | --- | --- | --- | --- | --- |
|   | | Comments() | | Print | | Mail | | Large Medium  Small | 分享按钮 | 0 |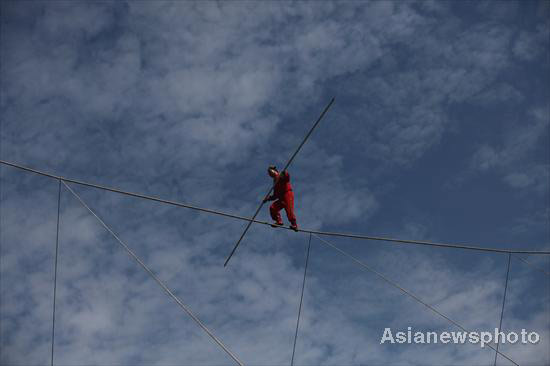 Adili Wuxor walks on the tightrope during a demonstration event at the ninth Chinese Traditional Games for Ethnic Minorities in Guiyang, Sept 16, 2011. [Photo/Asianewsphoto]
GUIYANG - Most famed high-wire walker of China Adili Wuxor told reporters on Staturday before the demonstration events' awarding ceremony that he's been working on taking Dawaz into the title events of the Chinese Traditional Games for Ethnic Minorities.
"I'm trying to apply for Dawaz adding into the title events, so that people around the whole country could get known to the precious ethnic inheritance of my ethnic group," said the Chinese Uygur, known as "the Prince of Tightrope Walking".
Dawaz, the Uygur name for high-wire walking, has been one of the demonstration events at the Chinese Traditional Games of Ethnic Minorities since the very first version in North China's Tianjin in 1953 when Adili's father presented it up front the country for the first time.
"My family has a history of more than 450 years working on Dawaz," added Adili, who again tiptoed along a tightrope 24 meters above the ground and 80 meters long in a total with a balance beam in his hands on Friday with all those daredevil moves. "And all that I wanna do in my whole life is to make Dawaz popularized and inherited."
The 40-year-old has attended the previous seven editions of the Chinese Ethnic Games before the ninth games slated here on September 10-18. His debut at the grand ethnic gala was 29 years ago when he was a 11-year-old boy.
Adili comes from a long line of Dawaz performers and is the Guinness record-holder for height who walked on a wire 687 meters across the Chongqing Cliff at a height of 662 meters in 2003.
A misstep would mean certain death. The risk has shadowed the Chinese ace high-wire walker for 32 years but never stopped him from committing himself to the performance.
An accident 20 years ago almost took his life when a wire was suddenly snapped while Adili was performing in Shanghai in July, 1991. He fell from 15 meters high, having his collarbones, public bones and several ribs fractured.
Adili has never been in danger thereafter. He attributed it to teamwork of several associates whom he called "eudemon".
"Actually, the accident made me even more motivated to accept more challenges," said the founder of a movable circus in Xinjiang Uygur autonomous region's capital city Urumqi, which was set up to provide daily Dawaz show and to nurse future Dawaz performers.
"Maybe it's unlikely to bring Dawaz in to the ethnic games' title events. The attempt is not an easy job and there's no shortcut to push it, but I'm confident to make it eventually," he said.
"I think it's possible that we could compete against other Dawaz performers from all over the country at the ethnic games in 2019," added Adili.
The high-wire hero has an 11-year-old daughter who's also practised Dawaz since she was a little girl, and Adili promised to bring her to the next ethnic games as a performer.
Related Stories
Dawaz 2008-01-23 17:51