6 places in Guangxi for graduation trips
By (en.gxzf.gov.cn)
2020-07-27
6. Leye-Fengshan Geopark, Baise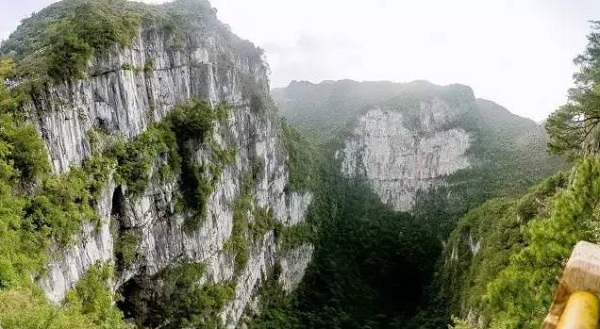 Aerial view of Leye Dashiwei Tiankeng Group in Baise. [Photo/gxnews.com.cn]
Located in Leye county, Baise and Fengshan county, Hechi in Guangxi Zhuang autonomous region, Leye-Fengshan Geopark consists of Leye Dashiwei Tiankeng Group National Geopark and the Fengshan Karst National Geopark, covering an area of 930 sq km.
The Geopark has two large underground river systems, forming a peak cluster landscape, with the world's largest Dashiwei Tiankeng groups, the most concentrated caves, the largest span of natural bridges and typical cave sediments, the most complete skull fossils of early giant panda races, as well as diverse flora and fauna retained by the unique tiankeng ecological environment, such as the Tiankeng plant community and the Buliu River Valley forest community.
The Geopark is of great value for tourism, science, and geoscience in particular. Distinguished by the enticing Karst landform, it also enjoys the reputation as a longevity county, the hometown of Tiankeng, and a haven for orchids. In 2010, it was ratified by UNESCO as a world Geopark.