6 places in Guangxi for graduation trips
By (en.gxzf.gov.cn)
2020-07-27
2. Sanjiang Dong autonomous county, Liuzhou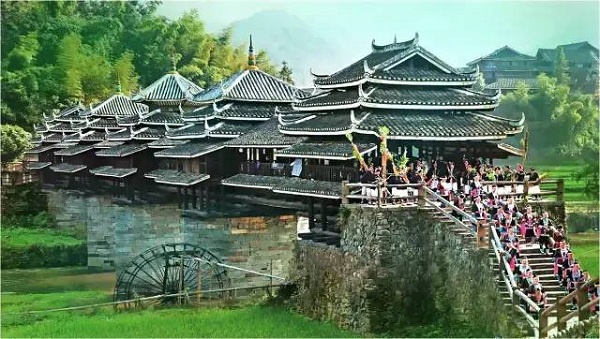 The Chengyang Yongji Bridge in Sanjiang Dong autonomous county, Liuzhou. [Photo/gxnews.com.cn]
The most famous and the largest scenic spot in Sanjiang Dong autonomous county, Liuzhou, Guangxi Zhuang autonomous region is the Chengyang Bridge Scenic Area. Covering an area of 12.55 sq km, the scenic area is composed of Chengyang Yongji Bridge and the Chengyang Bazhai Scenic Village, which consists of eight villages.
The Yongji Bridge of Chengyang, also called the Chengyang Wind and Rain Bridge, is an outstanding representative of wooden architecture in the world. The bridge is 77.76 meters long and 3.75 meters wide. The whole bridge was built by a mortise and tenon joint structure without nails.
The scenic area is rich in the original ecological tourism resources of the Dong ethnic group. It is a great place to experience Dong culture and is also a key project in the tourism investment planning of western China. In the scenic area, visitors can experience the exquisite wooden architecture, the colorful songs and dances of the Dong ethnic group, as well as the area's beautiful rural scenery.