Helping to keep prawns on the menu
By Li Wenfang and Chai Hua in Zhanjiang, Guangdong(China Daily) Updated: 2017-11-02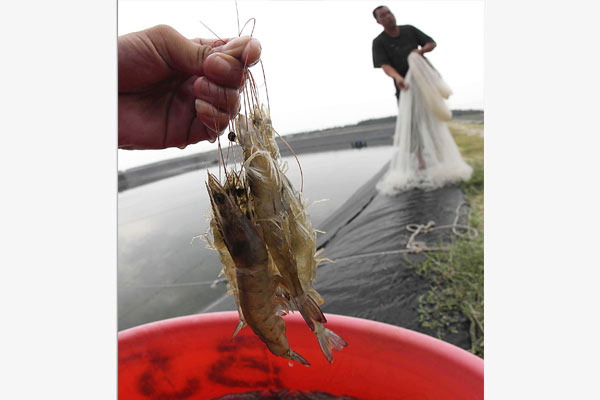 Prawns are harvested at a farm in Zhanjiang, South China's Guangdong province.XINHUA
Known as the "city of prawns", Zhanjiang is determined to live up to its name.
Major aquaculture companies are developing new seafood farms to cater for rising demand in China and across the Belt and Road economies.
Prawn production in China is just 1.4 million tons annually, which means 800,000 tons are imported.
"The demand in China now stands at about 1.2 million metric tons a year, while the export volume is 1 million tons," said Cen Jian, secretary-general of the Zhanjiang Association of Aquatic Products Import and Export.
"Domestic demand for prawns has been increasing at 20 per cent annually in the past two years," he added. "Prawns are rich in proteins, but low in fat, making them much more nutritious than pork, chicken or even fish."
Zhanjiang produces about 178,000 tons of prawns annually with seafood farms covering an area of nearly 3,000 square kilometers.
Even so, Cen warned that prawn production in the city is in decline.
"We had about 430 prawn farms at their peak, but now we have only 250 in operation," he said.
Cen pointed out that environmental damage around the breeding farms had made production more difficult.
Rising labor costs posed another challenge to the industry, Yang Wenguang, director of the Zhanjiang Bureau of Commerce, stressed.
Yet prawn production has become Zhanjiang's flagship business. The industry has a supply chain from seeding to breeding and from feeding to marketing.
To help cope with growing domestic and international demand, many Chinese aquaculture companies are now looking to expand overseas, especially in the Belt and Road economies.
Guangdong Evergreen Group Co, one of the market leaders in the industry and based in Zhanjiang, has built a seafood processing factory in Vietnam.
A second plant will come online by the end of this year.
"The total investment for the new project is about $14 million," said Chen Shanghong, the company's vice-president. "We expect to reach an annual production capacity of 80,000 tons."
Evergreen has already developed a global reputation.
The group helped build Egypt's first aquaculture industrial park, while new projects in Malaysia, Indonesia, Thailand, Saudi Arabia and Myanmar are in the pipeline.
Founded in 1992, Evergreen started off as an agricultural trading store with just six employees.
In the space of 25 years, it has grown into a diverse business with a 12,000-strong workforce and annual sales of 10 billion yuan ($1.5 billion).
"The aim now is to double production capacity in order to meet the needs of global markets, especially in the Belt and Road economies," Chen said.