Zhanjiang Airport schedules more flights for winter tourist season
(chinadaily.com.cn) Updated: 2017-10-26
Zhanjiang Airport will open five new air routes on Oct 29 and increase flights to eight destinations in preparation for the upcoming winter and spring tourist season through March 24.
According to the schedule, a China Southern Airlines flight from Shenzhen to Xi'an will lay over daily in Zhanjiang. In addition, a new flight, operated by China Eastern Airlines, will take off from Zhanjiang every Monday and Thursday and stop in Wuhan before going on to Ningbo.
The Zhanjiang-Tianjin and Zhanjiang-Shijiazhuang flights, which fly three times a week, will add Fuzhou and Guilin as connections respectively. In the meantime, a direct air route linking Zhanjiang and Wuhan will also be launched Wednesdays, Fridays and Sundays.
The number of flights on eight routes from Zhanjiang will be increased. The destinations will be Hong Kong, Xi'an, Shijiazhuang, Tianjin, Wuhan, Nanchang, Zhuhai and Guiyang. Zhanjiang Airport will then be operating 456 flights per week and have 27 air routes to 31 domestic and foreign destinations.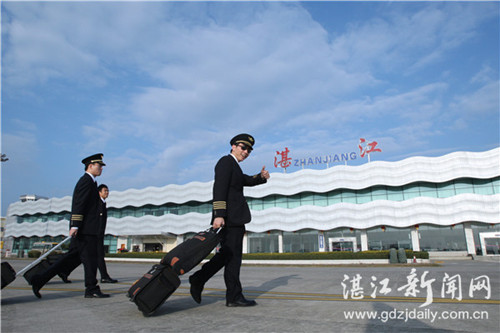 Zhanjiang Airport will open five air routes and increase flights heading for eight destinations from Oct 29. [Photo/gdzjdaily.com.cn]