US visitors begin China tour in Zhanjiang
By Xu Lili Updated: 2015-07-09
Six young men from the United States recently paid a visit to the city of Zhanjiang, the first stop of their China tour.
They were invited to Zhanjiang by their common friend Jason, who works in the city.
Greg Bolan from Alabama, Jonathan Day from California and Benjamin Echelmeier from Missouri said they have particular affection for China, which they said derives from their love for the Chinese culture.
Once they arrived in Zhanjiang, they applied the principle of "when in Rome, do as the Romans do" and immediately got Chinese names for themselves. Greg Bolan called himself Bao Han, Jonathan Day was called Dai Jingning and Benjamin Echelmeier was named Ben.
The three young men have learned how to use chopsticks before they came to China.
"A Chinese friend in university taught me some simple Chinese and how to use chopsticks. I gradually developed affection for China when he introduced me the Chinese culture," said Greg Bolan.
Jonathan Day has taken Chinese culture courses for five years. Benjamin Echelmeier loves China due to Chinese culture he learnt from his brother, who had spent eight months in Guangzhou.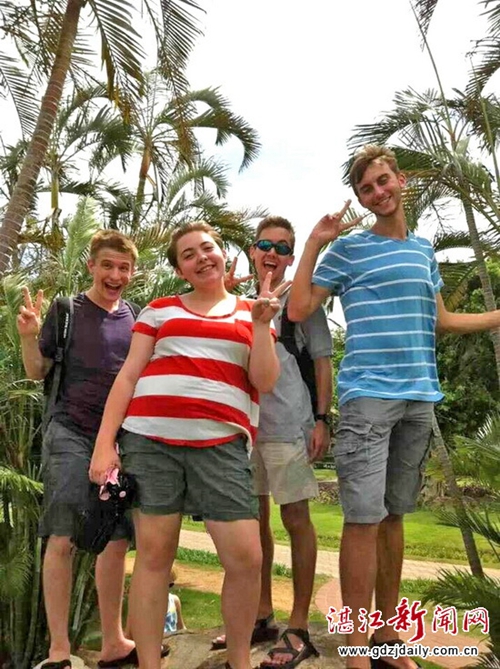 Young tourists from the US visit scenic spots in Zhanjiang. [Photo/gdzjdaily]