SHENZHEN - Southern China's Shenzhen city has drafted new labor rules to smooth industrial relations in the special economic zone (SEZ), after the manufacturing hub was stung by a series of worker strikes earlier in the year.
The draft law is scheduled to be reviewed as early as September in a meeting of the standing committee of the Municipal People's Congress, which stipulates that the collective bargaining shall be conducted at least once a year.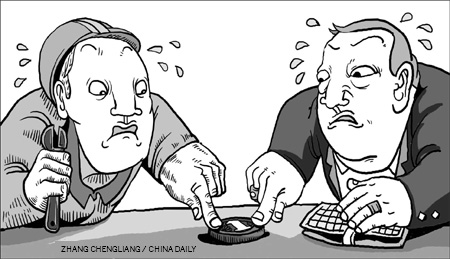 Fu Bolun, one of the law's chief drafters, said the law will establish a mechanism for negotiation of periodic pay raises in order to minimize labor disputes.
Thirty years after becoming a SEZ, the booming Shenzhen economy was hit by a spate of worker strikes and even deaths.
Some said the SEZ is enduring the pains of growing-up - according to a Chinese saying, someone is not mature enough until he hits his thirties.
A city of migrants, the former fishery village bordering Hong Kong has seen 8 million outsiders flood in. About 70 percent of them come from rural areas and work in labor-intensive sectors.
But low salaries, long the city's comparative advantage in attracting foreign investment, triggered many high-profile industrial conflicts in recent months.
Workers began striking here and in nearby cites in Guangdong province in May. Companies including Omron (Guangzhou) Automobile Electronics and auto-parts suppliers for Honda and Toyota were affected.
Labor issues also cost some lives, as many questioned the management practices of Foxconn - the world's biggest electronics contractor and the maker of the iPhone and iPad - after 12 workers fell to their deaths from the company's buildings in Shenzhen.
The company increased average monthly wages of its assembly line workers from 900 yuan to 2,000 yuan in June.
Soon after that, Shenzhen lifted its minimum wage to 1,100 yuan a month.
Professor Yue Jinglun at Sun Yat-sen University in Guangdong province said it is the right time for China to improve the welfare of its workers.
"Legislation is the right way," he said.
Although Shenzhen has maintained double digit growth for years, the salaries of its workers have not changed much. Some low-level workers have not seen any pay rises in the past decade.
Qiu Honghe from northeast China's Heilongjiang province said he could only afford to return to his hometown once in four years.
"I receive 1,400 yuan ($206) per month. The round-trip from Shenzhen to my hometown is 1,600 yuan. It would be a luxury for me to go hometown often," Qiu said.
In 2009, Shenzhen's total output reached 820 billion yuan. That meant GDP per capita hit 93,000 yuan -- roughly the level of a moderately developed economy.
"Without an institutional guarantee to secure the interests of workers, the goal of common-prosperity can hardly be realized," said Sun Yat-sen University Professor Yue Jinglun.
The Shenzhen legislature is not alone in empowering workers.
In July, Guangdong provincial legislature reviewed a draft law concerning labor disputes and wage negotiations.
Legislatures in the cities of Shanghai, Tianjin and Xiamen have also started procedures to draft similar laws.
"After achieving great economic results, the special economic zone of Shenzhen is now creating a pilot labor dispute settlement mechanism. It will help achieve the goal of common prosperity," said Yue.