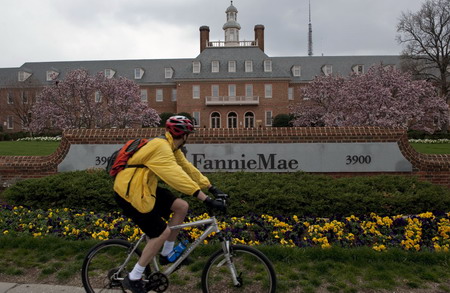 A man cycles past the headquarters of Fannie Mae in Washington, DC. China increased mortgage bond holdings, including those of Fannie Mae and Freddie Mac, by nearly $5.6 billion in June, according to US Treasury Department data. [Mannie Garcia / Bloomberg]  
Nation doubles S Korean debt holdings, buys more Fannie Mae bonds
BEIJING - China has accelerated steps to diversify its foreign reserves basket by doubling South Korean debt holdings and buying more mortgage bonds of Fannie Mae and Freddie Mac, the two largest US home funding companies.
South Korean treasury bonds held by Chinese investors rose 111 percent to 3.99 trillion won ($3.4 billion) in the first half of the year, Bloomberg cited data from the Seoul-based Financial Supervisory Service as saying.
In addition, China increased mortgage bond holdings, including those of Fannie Mae and Freddie Mac, by nearly $5.6 billion in June, according to US Treasury Department data. Fannie Mae recently turned to the US government for financial support of $1.8 billion on Aug 9 while Freddie Mac reported a loss of $1.2 billion in the second quarter.
"Obviously the nation is trying to diversify investment risks and stabilize returns on abundant foreign reserves," said Li Wei, an economist with Standard Chartered Bank in China.
China has diversified its pool of $2.45 trillion in foreign exchange reserves by cutting US Treasury bond holdings and increasing Japanese debt holdings.
The nation reduced US treasury bond exposure by nearly $24 billion in June, down 2.7 percent from May, according to data released by the US Treasury Department on Monday.
By the end of June, it held nearly $843.7 billion worth of US debt, $94.6 billion less than the peak of $938.3 billion it held in September 2009.
Related readings:


 China starts diversifying forex reserves


 China ups Japanese bond holdings in June


 SAFE: Europe is still a key investment market


 Market to dictate US Treasury bonds holdings
Meanwhile, it bought 1.73 trillion yen ($20 billion) worth of Japanese debt during the first half of 2010, nearly seven times the full-year record of 253.8 billion yen in 2005, said Japan's finance ministry.
"Considering the rate of return and the fluctuation of various currencies, the debts of Asian countries such as Japan and South Korea are attractive in the short- and medium-term," said Li.
"Asian debts are comparatively good options not only for stable returns, but also for strategic significance to nurture the Asian market and promote regional cooperation," said Chen Daofu, policy research chief of Financial Research Institute at the Development Research Center of the State Council.
He said it's time for China to take advantage of its foreign reserves for more strategic purposes, such as purchasing energy and resources, instead of just focusing on how to stabilize returns and reduce risks.
"And we need a special supervisory entity to integrate securities investment with overseas energy and resources investment and other relevant aspects such as diplomatic considerations."
Zhang Monan, a researcher with the State Information Center, also agreed that China should use its reserves to conduct equity investment in strategically more important areas, such as resources and high-tech industries.
"Such equity investment would give China more room for maneuvering than buying debts," she said.
It is hard for China to dump the debts it has purchased, because their market value would slump, which would in turn affect China's existing holdings, analysts said.
But in Li Wei's opinion, such a shift in investment strategy is unrealistic given various barriers set by foreign governments.
He also said that the huge foreign reserves have been accumulated mainly because authorities want to keep the yuan's value stable. "Such a large scale of investment won't last long as the yuan appreciates gradually," he said.