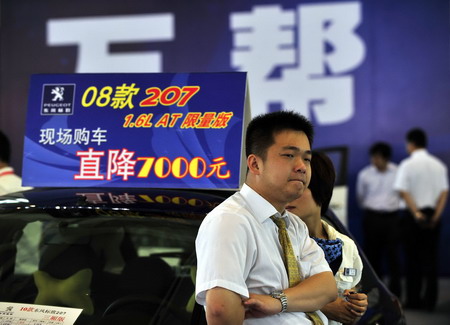 Passenger cars on sale in a Nanjing auto market in June.[ An Xin / for China Daily] 


Market cooling behind forecast slowdown in second quarter
BEIJING - China's automobile sales will decline slightly in the second half due to market cooling, said analysts.
"It is not beyond expectations that second half sales figures will be a little less than the first half as the market returns from overheated to healthy development," said Rao Da, secretary-general of the China Passenger Car Association.
However, China's prolonged policy of subsidizing trade-ins and new stimulus providing 3,000 yuan ($442.58) subsidy per unit to 71 green vehicle models, which both came into effect on July 1, will drive the sales in the second half, to a certain extent, said Rao.
"Thus, optimistically we lift our expectations for the whole year's auto sales from the previous 17 million units three months ago to 17.5 million units."
China sold 985,815 units of cars, multi-purpose vehicles, sports-utility vehicles and minivans in June, with a year-on-year growth rate of 18.1 percent, the lowest since last February. The sales dipped 2.2 percent from May, the association released on Wednesday.
The total sales in the first half hit 6.31 million units, surged 41.3 percent over last year, said the association.
General Motors, whose sales in China for the first time surpassed those in the United States in the first half, said that it expected continued sales growth in the second half, as it has been the biggest beneficiary of the Chinese government's new supporting measure for fuel-efficient cars, with 18 of its models to be listed among the total 71 models made by 16 automakers.
The new measure mainly supports smaller-sized vehicles with an engine capacity of or below 1.6 liters, which reduces fuel consumption by about 20 percent in average compared with current industry standard.
According to a report released by consumer research company AC Nielsen on Wednesday, 32 percent of consumers surveyed said that they will still consider purchasing a car within the coming 12 months. Georgia Zhuang, head of auto research Nielsen China, estimated that stimulus measures on green vehicles will greatly drive sales in the segment, as 20 percent of the consumers it surveyed said the government subsidy will encourage car purchase.
"From a long-term perspective, China's automobile market will continue robust growth, as there is increasing demand for smaller-sized fuel efficient cars and huge potential in third-tier or fourth-tier cities," said Feng Fei, director of the Research Department of Industrial Economy under the Development Research Center of the State Council."The growth engine will move from the coastal cities to inland regions, from big cities to rural regions in the future."
He predicted in China's 2010 Blue Book of Automotive Industry launched this Monday that the demand for passenger vehicles in China will reach 25 million units in 2020 and 35 million units in 2030.
"The natural demand is huge. Although China will have 200 million passenger vehicles in 2025, which means that seven out of every 100 people own cars, that's a similar figure with the current global average," said Zhang Xiaoyu, executive vice-president of China Machinery Industry Federation.