Hami, located in the east gate of Xinjiang, was an unavoidable pass on the Silk Road if one trekked from inland China to the Western Region (present-day Xinjiang). Because of its geographic and strategic importance, every dynasty in history deployed heavy armed forces there. As a gateway from the inland to the Western Region, Hami is under the combined influence of Uygur Muslim culture and Han culture and has developed its own unique traditions.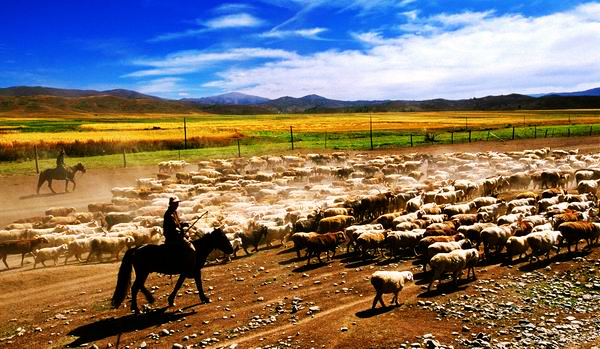 Mausoleum of Hui Muslim Kings
The mausoleum of hui Muslim kings, located in the western suburb of Hami, houses bodies Hui Muslim kings and their queens. It was first built in 1838 and now only two tombs are left. The architectural style of the mausoleum, different from other Islamic style mausoleums, blends features of both Islamic tombs and buildings of ancient inland China.
Next to the mausoleum is the great mosque, the large indoor mosque in Xinjiang. On the walls of the mosque are painted flower and grass patterns and written Koran in the Arabic language. The lotus-shaped ceilings are well made, featuring typical Islamic architectural style.
Against the sunset light the mausoleum looked especially magnificent and elegant. Because it was too late and I was the only visitor, the tour guide showed me all the spots in the mausoleum and gave me enough time to take photos. While I was photographing, I thought what the kings were doing in history. Were they discussing war affairs under oil light or enjoying happy time with their wives and children? Were they considering how to defeat rebellions in early dates or leading soldiers to reclaim lost territories? Whatever they thought and did, they have already become history.
In the exhibition hall of the history of Hami kings, I saw the copy map of the city wall of Hami. The local government has decided to rebuild the King's mansion and take it as a symbol of safeguarding national unity and territorial intergirty to educate younger generations.