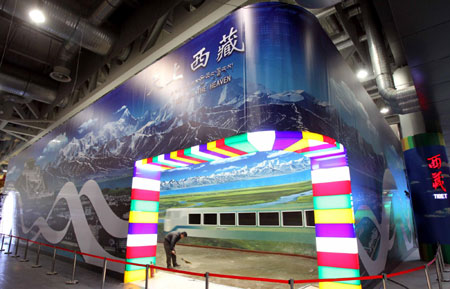 Photo taken on April 14, 2010, shows a view of the Tibet Pavilion after completion which will debut at the 2010 Shanghai World Expo. [Xinhua] 
The Tibet Pavilion which is set to debut at 2010 Shanghai World Expo was completed preparing and designing, according to Meng Yang, deputy head of the leading group of Tibet Pavilion.
Themed with "Heavenly Tibet", the Tibet Pavilion is one of China's joint provincial pavilions shown at Zone A.
Three sides of the exterior wall are decorated with a 7-meter-high and 63-meter-long full image of Lhasa city landscape, including the blue sky, snowy mountain ranges, tranquil Lhasa River, splendid Potala Palace and other Tibetan features.
The design reflects energy-saving, environmental-friendly and low-carbon ideas, echoing the theme of the expo "Better City, Better life."
With the theme of "Heavenly Tibet," the Tibet Pavilion will focus on such conceptions as eco-environment protection, Tibetan ethnic cultural heritage, and sustainable development, and show tremendous changes that have taken place since 1959, especially since China initiated the reform and opening-up drive in 1979.