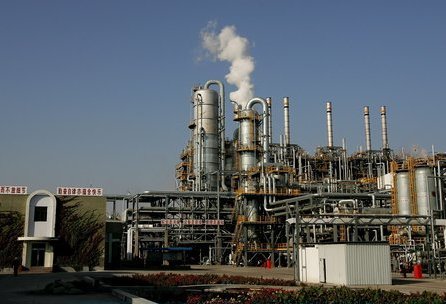 A general view of the construction site of a new China National Petroleum Corp (CNPC) - owned factory in Dushanzi of northwest China's Xinjiang Uyghur Autonomous Region, October 16, 2005.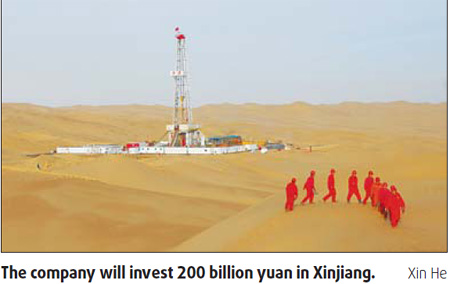 China National Petroleum Corp (CNPC), the country's largest oil and gas producer, plans to invest 200 billion yuan in the Xinjiang Uygur autonomous region between next year and 2015 to boost economic development in the region, said a company official.
The investment will mainly go toward oil and gas production facilities, oil refining and chemicals manufacturing bases, crude and refined oil reserves and oil and gas pipelines, said Zhou Jiping, vice-president of the company.
Xinjiang has 30 percent of China's onshore oil reserves and 34 percent of the country's natural gas reserves, available statistics indicate. At present, CNPC's largest oil and gas production base and oil refining facilities in western China are all located in Xinjiang.
In September, the company started operating its Dushanzi oil-refining complex in Xinjiang. With a crude processing capacity of 10 million tons a year and an ethylene production capacity of 1 million tons annually, the project is also the largest oil-refining complex in western China.
Last year, CNPC discovered a natural gas field with proven reserves of 100 billion cu m in northern Xinjiang. The Klameli field is the first reserve of this size ever discovered around the Junggar Basin.
Discovery of the field, about 250 km from the city of Karamay, will alleviate the gas shortage in northern Xinjiang, according to the company.
With large oil and gas reserves, Xinjiang is of strategic importance to CNPC as well as to China's energy sector. More advanced technology is needed to develop the rich resources in the region, said analysts.
In September, China started construction of seven energy projects with a total investment of 23 billion yuan in Xinjiang.
The projects include the Dushanzi strategic oil reserve base, which is part of China's second phase of strategic oil reserve bases. The base has a capacity of 5.4 million cu m and will stockpile crude mainly from Kazakhstan, according to the National Energy Administration (NEA).
China has finished its first phase of strategic oil reserves, which consists of four bases in the country's coastal provinces. The first four bases have a total capacity of 16.4 million cu m and they were all filled last year, according to the NEA.
Zhang Guobao, head of the NEA, told reporters in September that the country would build more strategic oil reserves, like the Dushanzi project, in inland areas.
Besides the Dushanzi reserve, other under-construction projects in Xinjiang include three plants that will provide electricity and heating to local people, one power transmission line, one coal mine and one liquefied natural gas project.
(China Daily 10/30/2009 page13)