"Monihei Carnival" of the Wa ethnic group
Wa is an age-old and mysterious minority with strong people. And the people there have worked hard for more than 3000 years and have created its unique glorious culture. As one of the only two Chinese Wa autonomous Counties, Cangyuan County in southwest China's Yunnan province has 3000 year-old cliff painting, Nan'gunhe Nature Reserve, highly-protected original ecologies and abundant animal and plant resources.
In 2009, the activities of the "Monihei Carnival" of Wa ethnic group in Cangyuan County mainly involved a grand opening ceremony of song and dance performance -- "heavy colored Wa Mountain ", ethnic arts tour, a crazy and passionate "making you black" activity with tens of thousand of persons' participation, ancient cliff painting worship, songs about life in Wa Mountain, campfire party, and Wa songs concert.
It is said this festival takes its meaning from the custom that the people smear the pot ash, ox blood and mud on other persons' face to frighten the evils and seek peace. The players can use natural paints to smear each other and pray for each other. As a traditional custom of the minorities in China, "Monihei Carnival" has attracted a lot of tourists both from home and abroad, creating a total income of 100 million from the tourism industry.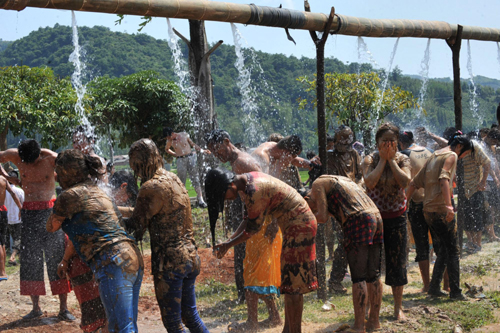 "Monihei Carnival" of Wa ethnic group in Cangyuan County in May 2009. [Xinhua]