China faces realities of manned spaceflight
(Reuters)
Updated: 2006-03-08 06:43
Tight budgets and the sheer technical challenge means that China will likely not put a man on the moon for at least another 15 years, a senior Chinese space official said on Sunday.
The country will also have to postpone its next manned space trip from 2007 to the second half of 2008 to give more time to test new equipment, said Huang Chunping, lead engineer behind the rocket that sent China's first man into space in 2003.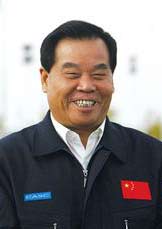 Huang Chunping

The 2008 mission was expected to include a spacewalk and the ship could carry up to three people, Huang said, all of which makes the trip that much more technologically difficult.

"We're in no rush. We have to take it one step at a time," Huang told Reuters on the sidelines of the annual meeting of parliament, where he is member of China's top advisory body, Chinese People's Political Consultative Conference.

China has come a long way since then paramount leader Mao Zedong lamented in 1957 -- the year the Soviet Union put the first ever man-made object into orbit -- that the country was incapable even of putting a potato into space.

China launched its first satellite in April 1970 aboard a Long March rocket. Since then industry analysts estimate it has launched over 50 satellites.

In October 2005, China sent another spacecraft carrying two men into orbit for five days, and a "round the moon" project, the first major step in China's lunar exploration plans, is expected to be launched in 2007.

The unmanned lunar orbiter is part of China's plan to eventually land astronauts on the moon before 2020.

Huang said even that could be optimistic.

"Putting a man on the moon -- it will be impossible for at least the next 15 years," he said.

As China was still a developing country with many problems, especially in its vast countryside where some 750 million people live, the space program had to compete for resources, Huang added.