Housing, education top urbanites' worries
By Fu Jing (China Daily)
Updated: 2006-02-24 05:32
Housing, education and jobs are the main worries of urban residents and these are the issues they would like to be addressed by the country's top legislators next month, according to a recent poll.
The Social Survey Institute of China (SSIC), a non-government organization, polled 2,000 people in 16 major cities including Beijing and Shanghai and asked them what they would like next month's annual session of the National People's Congress to discuss.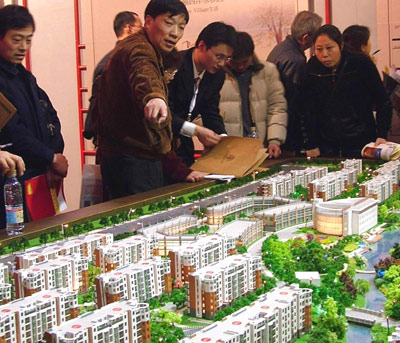 Citizens ask about information on a housing project at a housing exhibition in Shanghai in this photo taken on April 29, 2005. [newsphoto]
Nearly 4 in 5 respondents said they were worried about rising house prices and poor services provided by property management companies.
Urban real estate prices have seen a rapid rise in recent years. According to the World Bank, housing prices worldwide are equivalent to 5-7 years' household income, but in China it is 11 years' earnings.
About 3 in 5 were concerned about limited job opportunities.
Despite a record 11 million job openings this year, 14 million urbanites including those entering the job market, laid-off workers and migrants from rural areas might end up with no employment. The pollsters said the laid-off, disabled people and fresh university graduates would find it most difficult to find jobs.
As tuition fees keep rising in educational institutions, nearly 3 in 5 surveyed complained about the increasing cost and corruption.
High medical expenses, rising inequality, personal safety, financial fraud and the rule of law are also listed as major worries.
The country's 11th Five-Year (2006-10) Plan has been listed as the 12th hottest topic among 29 per cent of urban residents.
"The findings show that people are preoccupied with personal concerns," said Wang Xing, the public opinion centre director of SSIC. "We hope the public voices reach the legislators."
Asked whether communication between the public and the authorities was smooth, only about 11 per cent of the respondents replied in the positive; 42 per cent said it was "so-so"' and the remaining believed it was ineffective.