China finds two more birds with bird flu
(AP)
Updated: 2005-11-18 23:30
China on Friday confirmed two new outbreaks of bird flu in poultry, bringing to 15 the number of cases reported nationwide since Oct. 19.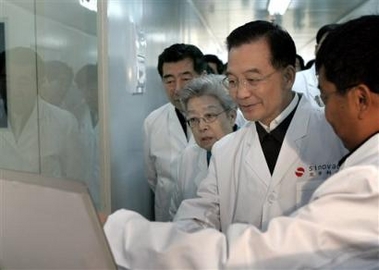 This photo released by Xinhua News Agency, Chinese Premier Wen Jiabao (2nd R) listens to a researcher on the latest development of bird flu human vaccine in Beijing, capital of China, Thursday, Nov. 17, 2005, as Wen inspected the research work on bird flu vaccines and medicines. [AP]
The latest outbreaks were hundreds of miles apart — in the northern province of Shanxi and the far northwestern region of Xinjiang, Xinhua News Agency said.
China earlier this week confirmed its first human cases of bird flu — two people who had close contact with sick poultry. One person has died and the other is recovering, state media have said.
In the Shanxi outbreak, 8,103 birds were discovered dead last week in the city of Xiaoyi, the news agency said. In Xinjiang, eight birds were found dead in the regional capital, Urumqi, it said.
China's national bird flu lab has confirmed the virulent H5N1 strain of bird flu in both cases, Xinhua said.
All poultry within two miles of the outbreak sites were killed as a precaution, it said.
China announced plans this week to vaccinate all of its poultry — or 14 billion birds.